Whiteboard Tools You Actually Use
Pens, erasers, search engine assignment, customizable toolbars.
Remote Session Security
In room and remote teams securely record and save their work sessions.
Extensive Recording Capabilities
Save work in multiple file formats, reopen and resave anytime.
Support Centric
Live help, in one click, so your work moves forward now.
Your whiteboard work will never be the same. Try it, you'll see.
Looking for a quality touchscreen too?
OneScreen Canvas includes annotation and screen share software, touchscreen, keyboard, and live support.
OneScreen Annotate Subscription
Screen Share and Control Functionality
Description
Annotate
Multi-party usage
Include up to 50 remote users in a shared whiteboard space
Unlimited content annotation capabilities using intuitive tools
Personalized workspace and toolbar
Workspace size
(endless whiteboard space)
Import multimedia files
(drag and drop)
Pre-loaded content
(geography, mathematics, science)
Saving work sessions
(formats include .yar,.htm, .bmp, .jpg, .png, .iwd, .pdf, .ppt)
Saving and recording work sessions
(records audio and annotation simultaneously)
Built-in Google images access
Text, shape and handwriting recognition
Programmable search engines
Annotate desktops screens and documents
Multi-touch input
System Requirements
CPU
CPU Core i3 Processor
Free hard drive space
2.5 GB
RAM
1 GB (recommended 2 GB)
Display colors
High Color (16 bit)
Operating System (OS)
Windows (7, 8.1, and 10) and up to Mac 10.11
More OneScreen Collaboration Software
Unleash your team's work flow.
Hype
Browser-based Video Conferencing and Collaboration
---
Web based cloud subscription
Unlimited multi-party calls with up to 50 participants
Desktop and application sharing, recording
Instant messaging, file exchange, dial-out capability & online whiteboard
Simple interoperability with laptop, tablet, and smartphone
Conduct highly secure meetings
Technical support with live, on-demand Screen Skills Guur service
---
---
Learn More
Swap
Screen share, view and control
---
Full administrator functionality
Securely share your screen with up to 40 remote users simultaneously via any web browser
Give control of your mouse and keyboard to more remote users
Give control of your PC from a web browser on any device
Technical support with live, on-demand Screen Skills Guru service
---
---
Learn More
OneScreen Annotate Product Resources
Tips for Using OneScreen Annotate
You won't think of brainstorming without it again. Record your brainstorm sessions, save your whiteboard work and restart anytime, one-click to access Bing or Google search.
See a quick tutorial on how to erase annotations, images and objects on our whiteboarding screens.
See a quick tutorial on screen capture.
See a quick tutorial on annotating on captured content you drag and drop onto the desktop.
OneScreen Annotate Downloadable Resources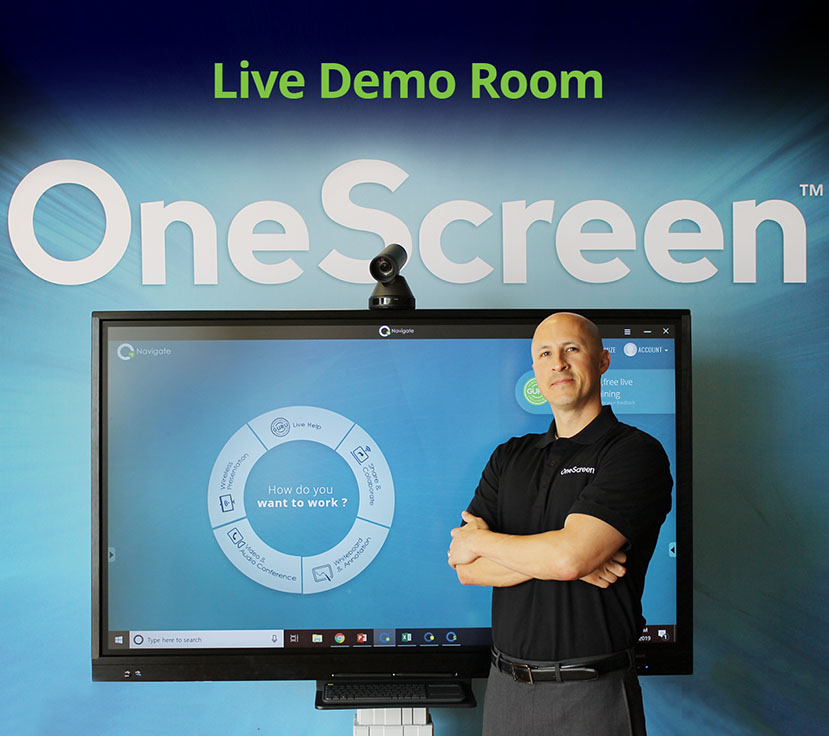 What are customers saying?
---
"We have been using OneScreen in our classrooms. The students are focused and motivated during the interactive activities presented. Their customer-support service has been excellent!"
---
"Kevin was very helpful in the selection process of a OneScreen-canvas for our school. The selection process was easy and customer service was impeccable. It was a pleasure doing business with you."
---
"OneScreen Canvas has proven to be essential to the success of my orthodontics practice. The picture quality and interactive features of OneScreen Annotate are terrific! Patients and office staff love this product. We would highly recommend OneScreen to everyone!"
---
More User Testimonials