Affordable Innovation
Deliberately built with just the features teams and teachers use most and the quality hardware they deserve.
Fundamental Apps
Annotate on anything, easily screen share, simple built-in screen recorder, stream up to 9 devices at once.
Simplified Specs
Choose from 3 screen sizes that include 32GB, 4K UI, 10-Watt speakers, blue light filter.
Screen Skills Guru
Unlimited, free Screen Skills Guru support and training with all of our solutions via audio, video, chat, email or phone.
Easy to write, easy to share, easy on the wallet --- Just the stuff you really want.
OneScreen Touchscreen TL6 Business
Sizes, Specifications and Features
Applications
Interactive Whiteboard
OneScreen Annotate is interactive whiteboard and annotation software
Screen Share & Stream
EShare software, multi-device screen share & streaming
Annotation
OneScreen Write software, write on any content, save, transfer via QR code or email
Android Applications
Full access to Android Apps including Chorme, YouTube, Office Apps and more
Google Play Store
Full access to Google play store with multi-user login support
Help & Training
Free Help & Training
Unlimited Screen Skills Guru help & training available in one click on video or by chat, phone or email
Product Series
Panel Size
65″
75″
86″
Series
TL6
TL6
TL6
Model No
OneScreen Touchscreen TL6-65
OneScreen Touchscreen TL6-75
OneScreen Touchscreen TL6-86
Inside Bezel Dimensions
56.23″(W)×31.63″(H)
64.95" (W) × 36.53" (H)
74.61″(W)×41.97″(H)
Panel Spec
BackLight Source
LED
LED
LED
Color Depth
10BIT/1.07 G
10BIT/1.07 G
10BIT/1.07 G
Panel brand
LG
LG
LG
Resolution
3840x2160
3840x2160
3840x2160
Refresh
60HZ
60HZ
60HZ
Brightness
350cd/㎡
350cd/㎡
350cd/㎡
Contrast
1200:1(Typ.)
1200:1(Typ.)
1200:1(Typ.)
Viewing Angle
178°/ 178°
178°/ 178°
178°/ 178°
Touch System
Touch Type
IR infrared
IR infrared
IR infrared
Response Time
<8ms
<8ms
<8ms
Touch points
20
20
20
Touch Resolution
32768 x 32768
32768 x 32768
32768 x 32768
Touch accuracy
<2mm
<2mm
<2mm
Drive System Parameters
CPU
Cortex A73x2 A53x2 1.5GHZ
Cortex A73x2 A53x2 1.5GHZ
Cortex A73x2 A53x2 1.5GHZ
RAM
3G DDR3
3G DDR3
3G DDR3
Flash
32GB (Standard)
32GB (Standard)
32GB (Standard)
System
Android 8.0
Android 8.0
Android 8.0
Input Output Interface
1x RS232, 1x YPBPR IN, 2x HDMI IN, 2x RJ45, 1x Touch usb ,1x VGA IN, 1x VGA AUDIO IN, 2x USB 2.0, 2x USB 3.0 (front), 1x AV IN, 1x AV OUT, 1x Earphone (3.5 mm)
1x RS232, 1x YPBPR IN, 2x HDMI IN, 2x RJ45, 1x Touch usb ,1x VGA IN, 1x VGA AUDIO IN, 2x USB 2.0, 2x USB 3.0 (front), 1x AV IN, 1x AV OUT, 1x Earphone (3.5 mm)
1x RS232, 1x YPBPR IN, 2x HDMI IN, 2x RJ45, 1x Touch usb ,1x VGA IN, 1x VGA AUDIO IN, 2x USB 2.0, 2x USB 3.0 (front), 1x AV IN, 1x AV OUT, 1x Earphone (3.5 mm)
Other Parameters
BlueTooth
Bluetooth 4.1 (supports file sharing and external Bluetooth devices)
Bluetooth 4.1 (supports file sharing and external Bluetooth devices)
Bluetooth 4.1 (supports file sharing and external Bluetooth devices)
Wifi
2.4Ghz/5Ghz (also supports Wifi hotspot)
2.4Ghz/5Ghz (also supports Wifi hotspot)
2.4Ghz/5Ghz (also supports Wifi hotspot)
OPS PC Support
OPS PC supported (options are available for i5 and i7 PCs)
WINDOWS10 (Optional)
WINDOWS10 (Optional)
Speakers
2x 15W Speakers with surround sound and equalizer
2x 15W Speakers with surround sound and equalizer
2x 15W Speakers with surround sound and equalizer
Other Functions
EShare
Share up to 9 screens simultaneously on the OneScreen. Screen mirroring back to student devices now allows teacher to pass view only and view and control access. Authenticate users before letting them share screens. Password protection available.
Share up to 9 screens simultaneously on the OneScreen. Screen mirroring back to student devices now allows teacher to pass view only and view and control access. Authenticate users before letting them share screens. Password protection available.
Share up to 9 screens simultaneously on the OneScreen. Screen mirroring back to student devices now allows teacher to pass view only and view and control access. Authenticate users before letting them share screens. Password protection available.
Temperature detection function
Display the internal temperature of the machine on the all-in-one menu interface and automatically shut down if there is a failure or the temperature exceeds the standard
Display the internal temperature of the machine on the all-in-one menu interface and automatically shut down if there is a failure or the temperature exceeds the standard
Display the internal temperature of the machine on the all-in-one menu interface and automatically shut down if there is a failure or the temperature exceeds the standard
Gestures
Palm erase, two finger zoom in/zoom out, pan, pen thickness based touch recognition
Palm erase, two finger zoom in/zoom out, pan, pen thickness based touch recognition
Palm erase, two finger zoom in/zoom out, pan, pen thickness based touch recognition
Power Supply Parameters
Rated power consumption
≦180W
≦320W
≦410W
Standby power
<1W
<1W
<1W
Rated voltage
100-240VAC 50/60HZ
100-240VAC 50/60HZ
100-240VAC 50/60HZ
Environment-al Requirement
Operating Temperature
-10℃-50℃
-10℃-50℃
-10℃-50℃
Operating Ambient Humidity
10%-90%
10%-90%
10%-90%
Storage Temperature
-20℃-60℃
-20℃-60℃
-20℃-60℃
Storage Humidity
10%-90%
10%-90%
10%-90%
| | | | | |
| --- | --- | --- | --- | --- |
| Panel Size | | 65″ | 75″ | 86″ |
| Remote Controls | | 1x Remote Control | 1x Remote Control | 1x Remote Control |
| Cables & Stylus | | 2x Stylus pens, 1x Extendible Stylus,1x Remote Control, 1x Power cord, 1x HDMI cable, 1x USB Touch cable | 2x Stylus pens, 1x Extendible Stylus,1x Remote Control, 1x Power cord, 1x HDMI cable, 1x USB Touch cable | 2x Stylus pens, 1x Extendible Stylus,1x Remote Control, 1x Power cord, 1x HDMI cable, 1x USB Touch cable |
| | | | | |
| --- | --- | --- | --- | --- |
| Panel Size | | 65″ | 75″ | 86″ |
| Product Dimensions | | 58.46″ x 3.60″ x 35.33″ | 67.20″ x 3.61″ x 40.26″ | 76.90″ x 3.62″ x 45.72″ |
| Shipping Dimensions | | 65.20″ x 8.46″x 40.74″ | 75.98″ x 8.86″ x 46.65″ | 84.88″ x 8.86″ 52.24″ |
| Product Weight | | 99.2 lbs | 134.5 lbs | 163.2 lbs |
| Shipping Weight | | 130 lbs | 178.5 lbs | 209.4 lbs |
| Wall Mount | | 500x400 | 600x400 | 800x400 |
| Advanced HW Replacement Warranty | | Available at time of purchase only | Available at time of purchase only | Available at time of purchase only |
*First year of subscriptions to all cloud-based services included
OneScreen Touchscreen TL6 Business
Get a free quote
Touchscreen TL6 Business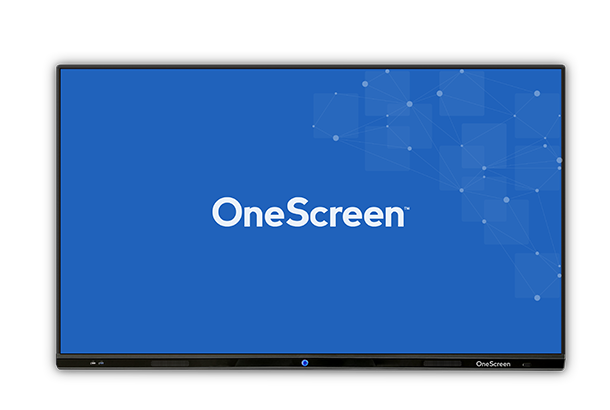 Touchscreen TL6 Business Resources
Touchscreen TL6 Business Documents