OneScreen is Partnering with Microsoft and Qualcomm to Reshape the Future of Classroom Technology
OneScreen has teamed up with Microsoft and Qualcomm Technologies, Inc. to create education-centered interactive smartboards that bring the latest Qualcomm® Snapdragon™ Compute Platform technology and Windows OS compatibility to classrooms everywhere. Demos are scheduled at education conferences throughout early 2020.
San Diego, California, January 14, 2020
Educators often have to make do with technology in the classroom that is out of date or built for enterprise customers. This has created an imbalance where students often know more than their teachers about what the latest tech can do. OneScreen is on a mission to correct this through their new partnership with tech giants Microsoft and Qualcomm. Together, they will create the next generation of high speed interactive smartboards designed around the unique needs of educators.
Their collective vision is realized in the new OneScreen Hubware running on a Microsoft Windows 10 OS and including the fastest available Qualcomm Snapdragon Compute Platform. The result is the only smartboard on the market with an onboard processor faster than many of the latest generation laptops or smartphones.
Latency in streaming video and audio presents a huge problem for most collaboration hardware. OneScreen Hubware has solved this problem by incorporating the Snapdragon chip to achieve 5G speed connectivity and buffering. The result is easy-to-use technology for teachers and immersive experiences for students. At the same time, Microsoft interoperability opens up a world of devices and software that teachers can bring to their lessons.
"Teachers can be our toughest critics," explained OneScreen CEO Sufian Munir "They know that their students have already seen the best technology has to offer. We owe it to educators at all levels to provide them with the very best technology for the classroom so their students can thrive in a world dominated by tech. If all a teacher can offer is a legacy device, how will students adapt to the rapid changes on the road ahead?"
The Snapdragon Compute Platform series is designed to handle multi-gigabit LTE wireless communications and upcoming 5G standards for communications. As a native Windows 10 OS device, the OneScreen Hubware interacts seamlessly with Microsoft education apps such as Office, Teams, Whiteboards and all student laptops.
"Smart displays are becoming prevalent in applications around the world, from primary to higher education classrooms and even in corporate board rooms," said Ketal Gandhi, Director, Business Development and Head of Smart Panels, Qualcomm Technologies, Inc. "Qualcomm continues to leverage its innovation and technology portfolio to supply cutting-edge connectivity and computing solutions for smart displays and is pleased to collaborate with OneScreen on their newest product."
Based on feedback from educators, the new OneScreen Hubware will also include one-click access to Screen Skills Gurus for on-demand, real-time training and support via video, audio or live help. Automated classroom attendance and searchable performance data reduce their administrative burdens. Thanks to the Microsoft partnership, educators will be able to call up more than 100,000 teacher resources and lesson plans.
Starting with London's British Educational Training and Technology Show (BETT) in January 2020, Microsoft will showcase and offer demos of the prototype OneScreen Hubware around the world. Demos are currently scheduled for the Mobile World Congress in Madrid at the end of February and a range of other tech conferences in early 2020.
"Today, all educators recognize that the world is a classroom, and their classroom should be open to the world," continued Munir. "Too many of them still only have access to technology from last century. Our educators and their students deserve better than that. You just have to see their faces when they get their hands on these smart screens to know you are doing the right thing."
Media Contact: Kelly Bolton, kelly@onescreensolutions.com
About OneScreen
When collaboration technologies work together, organizations can realize the benefit of people working together. OneScreen Hubware and software solutions facilitate the way collaborators need to flow between work tools and access a variety of content, data, and people to be continuously productive. Headquartered in San Diego, California, OneScreen has offices in the United States, Pakistan, Colombia, Mexico, U.A.E. and Canada. All of your collaboration tools are right here. Learn more at OneScreenSolutions.com or our Facebook and Twitter pages.
About Microsoft
Microsoft (Nasdaq "MSFT" @microsoft) enables digital transformation for the era of an intelligent cloud and an intelligent edge. Its mission is to empower every person and every organization on the planet to achieve more.For more information, news and perspectives from Microsoft, please visit the Microsoft News Center at https://news.microsoft.com. Web links, telephone numbers and titles were correct at time of publication but may have changed. For additional assistance, journalists and analysts may contact Microsoft's Rapid Response Team or other appropriate contacts listed at https://news.microsoft.com/microsoft-public-relations-contacts.
About Qualcomm
Qualcomm invents breakthrough technologies that transform how the world connects, computes and communicates. When we connected the phone to the Internet, the mobile revolution was born. Today, our inventions are the foundation for life-changing products, experiences, and industries. As we lead the world to 5G, we envision this next big change in cellular technology spurring a new era of intelligent, connected devices and enabling new opportunities in connected cars, remote delivery of health care services, and the IoT — including smart cities, smart homes, and wearables. Qualcomm Incorporated includes our licensing business, QTL, and the vast majority of our patent portfolio. Qualcomm Technologies, Inc., a subsidiary of Qualcomm Incorporated, operates, along with its subsidiaries, all of our engineering, research and development functions, and all of our products and services businesses, including, the QCT semiconductor business. For more information, visit Qualcomm's website, OnQ blog
"Today, all educators recognize that the world is a classroom, and their classroom should be open to the world, too many of them still only have access to technology from last century"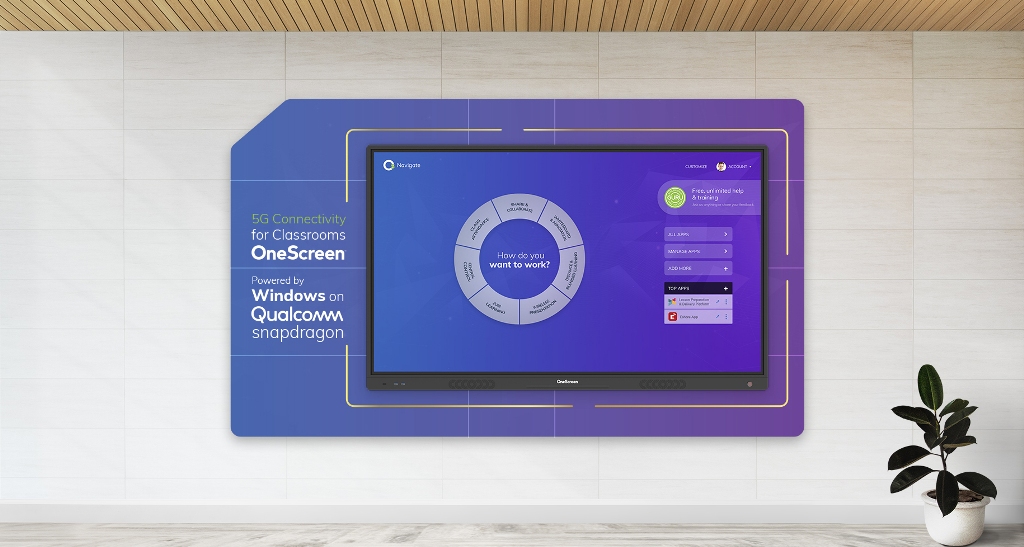 ---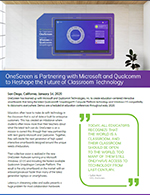 ---