Microsoft Reveals OneScreen Smartboard Prototype at BETT 2020
Microsoft will offer educators an early preview of a Windows-based version of OneScreen Hubware designed specifically for classrooms at this year's BETT education technology conference in London. OneScreen Hubware is the only interactive flat panel display built around the 5G-enabled Qualcomm™ Snapdragon™Compute Platform.

SAN DIEGO January 20, 2020
The British Educational Training and Technology Show (BETT) is known for introducing some of the most student-friendly and creative technology to educators every year, including interactive whiteboards, programable robots, augmented reality tabletops, and AI assistants for teachers.Tens of thousands of education professionals from around the world attend BETT each year to get their hands on the very best in new classroom technology. BETT 2020 runs January 22 - 25, 2020, at the ExCel London hall on the Thames.
At this year's big event, Microsoft is partnering with OneScreen to unveil a prototype of a next generation flat panel display, featuring the only Windows-based interactive smartboard that runs on a Snapdragon Compute Platform. Unlike any other smartboard on the market, OneScreen Hubware with the onboard Snapdragon chip promises lightning-fast 5G connectivity and low latency video/audio for truly immersive experiences.
"Smart displays are becoming prevalent in applications around the world, from primary to higher education classrooms and even in corporate board rooms," said Ketal Gandhi, Director, Business Development and Head of Smart Panels, Qualcomm Technologies, Inc. "Qualcomm continues to leverage its innovation and technology portfolio to supply cutting-edge connectivity and computing solutions for smart displays and is pleased to collaborate with OneScreen on their newest product."
Educators at all levels will be able to test out the OneScreen Hubware for classrooms, both at the Microsoft booth on the floor and inside the VIP Lounge. While Microsoft markets their own Surface line of flat panel displays for enterprise customers, the company reached out to OneScreen to create a Windows-compatible smartboard designed specifically for educators.
This customized version of OneScreen Hubware runs natively on Windows 10 OS to interact seamlessly with Microsoft education apps such as Office, Teams, Whiteboards as well as student laptops. The result is an intuitive teaching device for educators and a cutting-edge learning tool for students.
"We are delighted to partner with Microsoft in presenting the future of classroom education at BETT 2020," said OneScreen CEO Sufian Munir. "Teachers at all levels deserve the very best that technology has to offer to engage their students in practical, real-world problem-solving. We are proud of the advances we have been able to achieve in concert with our new partners."
Following BETT 2020, Microsoft plans to introduce the OneScreen classroom-ready smartboard at education-centered conferences all around the world.
About OneScreen
When collaboration technologies work together, organizations can realize the benefit of people working together. OneScreen Hubware and software solutions facilitate the way collaborators need to flow between work tools and access a variety of content, data, and people to be continuously productive. Headquartered in San Diego, California, OneScreen has offices in the United States, Pakistan, Colombia, Mexico, U.A.E. and Canada. All of your collaboration tools are right here. Learn more at OneScreenSolutions.com or our Facebook and Twitter pages.
About Microsoft
Microsoft (Nasdaq "MSFT" @microsoft) enables digital transformation for the era of an intelligent cloud and an intelligent edge. Its mission is to empower every person and every organization on the planet to achieve more. For more information, news and perspectives from Microsoft, please visit the Microsoft News Center at https://news.microsoft.com. Web links, telephone numbers and titles were correct at time of publication but may have changed. For additional assistance, journalists and analysts may contact Microsoft's Rapid Response Team or other appropriate contacts listed at https://news.microsoft.com/microsoft-public-relations-contacts.
About Qualcomm
Qualcomm invents breakthrough technologies that transform how the world connects, computes and communicates. When we connected the phone to the Internet, the mobile revolution was born. Today, our inventions are the foundation for life-changing products, experiences, and industries. As we lead the world to 5G, we envision this next big change in cellular technology spurring a new era of intelligent, connected devices and enabling new opportunities in connected cars, remote delivery of health care services, and the IoT — including smart cities, smart homes, and wearables. Qualcomm Incorporated includes our licensing business, QTL, and the vast majority of our patent portfolio. Qualcomm Technologies, Inc., a subsidiary of Qualcomm Incorporated, operates, along with its subsidiaries, all of our engineering, research and development functions, and all of our products and services businesses, including, the QCT semiconductor business. For more information, visit Qualcomm's website, OnQ blog, Twitter and Facebook pages. Qualcomm and Snapdragon are trademarks of Qualcomm Incorporated, registered in the United States and other countries. Qualcomm Snapdragon is a product of Qualcomm Technologies, Inc. and/or its subsidiaries.
"We are delighted to partner with Microsoft in presenting the future of classroom education at BETT 2020, Teachers at all levels deserve the very best that technology has to offer to engage their students in practical, real-world problem-solving."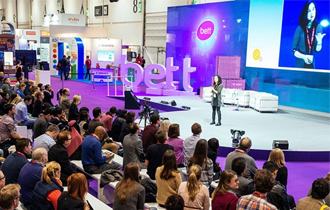 ---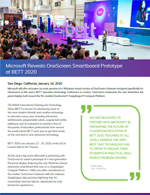 ---