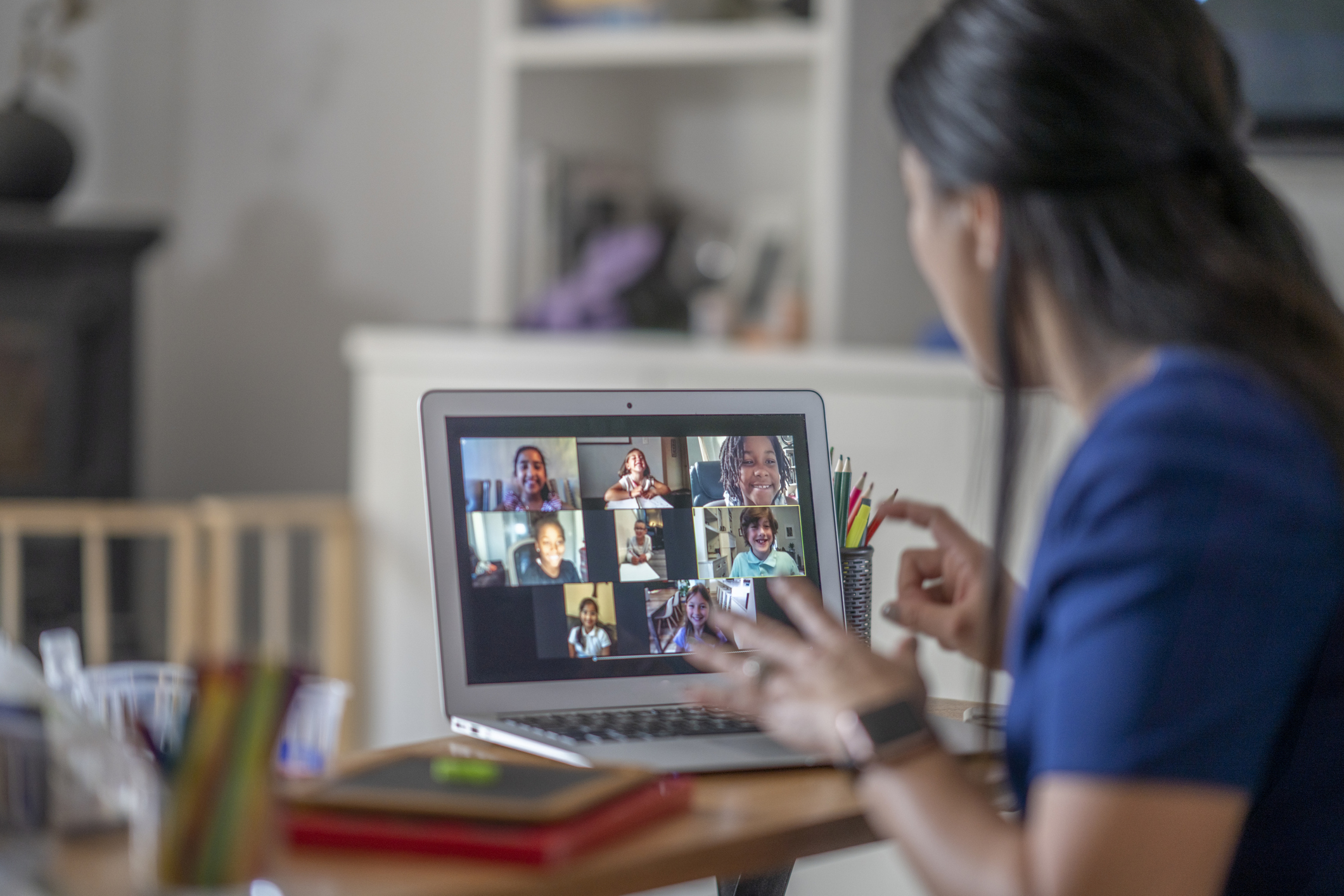 There's only one person who really knows what's going on in today's classroom: the teacher. We wanted to discover how teachers felt about remote learning and their plans for the future of education, so we sent out surveys to teachers all over the world.
Their answers were candid, often running counter to expectations and offering a much wider view of classroom dynamics than many of the stories currently in the news.
Here, in their own words, teachers lay out what the sudden pivot to remote learning has meant for their classrooms and what's next for schools in the years ahead.
1. Teachers Want the Best Aspects of Hybrid Learning to Become the New Normal
We asked teachers if they intended on bringing aspects of remote learning back into the physical classroom. The answer was "Yes" for more than three out of four teachers (77%), while another 14% were still undecided.
The answers on exactly what teachers will bring to the hybrid classroom included "More use of the online learning tools, so that they are well versed in how to use it," and "Less paper more iPad use (school provided device)."
Less paper in classrooms has been a goal of educators for many years but now it looks practical for the first time. One of the biggest hidden benefits of reducing paper homework and tests is the administrative work in scoring, reporting and filing all of that paper. Online assignments and testing gives teachers more time in the day by transferring data directly to school servers with no chance of human error due to manual entries.
In addition, taking attendance is much easier online and student logins assure that no child turns in an assignment without their name on it.
2. Teachers Need More Upfront Training and Technical Support On-Demand
Teachers have had to teach themselves new technology on the fly in front of students who tend to quickly lose focus. Before 2020, the easiest way to avoid this kind of snafu was to avoid new technology all together unless the teacher could be sure of adequate training upfront and IT support from someone in the school. That wasn't an option this year.
Teachers had to learn remote learning technology as they were trying to keep up with lesson plans. Teachers frequently had to accept help from the students who were already using tablets, laptops and collaboration software.
At 15%, the need for more support and training was the third biggest challenge teachers faced this year, after resistance from parents/students and connectivity issues. Of the three challenges, the call for more support and training is the easiest to answer.
3. Hands-On Experience with EduTech Has Sparked a New Interest for Teachers
Teachers were split on the very best aspect of remote learning. The ability to do their work from anywhere was the first choice for about a third of teachers surveyed (34%). A very close second answer at about 28% was the chance to learn all kinds of new EduTech hardware and software. Ordinarily, time is too short and administrative workloads are too heavy for teachers to try out the latest technology that was built to simplify their lives.
Lockdowns and rapid deployment of remote learning became a crash course in EduTech. A quarter of teachers said that they liked both location flexibility and new tech capabilities, but that access to free internet resources and student engagement were equally important in their classrooms.
4. Remote Learning Has Given a Voice to Some Students for the First Time
We asked teachers what the biggest change has been in their relationship with students. While two thirds said that students need more individual attention, the second most common answer was a surprise. One in six teachers (17%) said that students who don't normally speak up in a physical classroom are now participating for the first time.
As one teacher explained "Edtech has enabled better progress, monitoring and tracking of student engagement." Another found that "Even though we don't have as much one-on-one time, the students have learned how to be patient and support each other."
Overall, class structure may need to change to accommodate more one-on-one time, but the online classroom has highlighted how much learning styles impact motivation. That's definitely an important lesson for school leaders to take into consideration after the current crisis has passed.
5. Teachers Want to Return to the Physical Classroom, But Only When It Is Safe
A majority of teachers said they can't wait to return to the physical classroom, but many expressed they will only come back when they feel it's safe for everyone - students, teachers, staff, support and visitors. While 60% gave an unqualified "Yes" when asked if they were eager to return, nearly 20% were "Undecided" and another 10% simply said "No."
The most common reason why teachers were hesitant was some variation on, "Once it's safe for all." A teacher who had returned to the physical classroom commented, "I'm in person now, but remote learning is honestly better." Another common situation was represented by the answer "I'm in person with several students still remote." It's likely that some students and their parents will remain wary of returning to a physical classroom for some time.
One reason for their reaction is that schools using handheld temperature scanners at the door have found that they are not always accurate and require someone to stand closer than 6 feet every time they scan. This has exposed school nurses or security to unnecessary risks. Schools everywhere need better entryway management systems.
6. Many Teachers Rated Quality of Education as the Same or Better With Remote Learning
This was truly a surprise. Only a simple majority of teachers (58%) said that fully remote learning has not been as effective as teaching in a physical classroom, even though this is the story that has received the most coverage in the media. The reality for educators everywhere is much more nuanced.
For about 37% of teachers, the quality of education has remained exactly the same or improved with remote learning. Teachers gave answers such as "I think both in-person and virtual have their pros and cons," and "Parts are definitely better in some ways but you can't beat the physical connections and group collaboration."
There remain questions about which aspects of online learning are better and why some students excel in a physical classroom. These deserve closer attention.
7. Every Classroom Is As Unique as Its Students, Schools Need Multiple Approaches
The most reasonable conclusion to draw from the existing data is that there is no perfect classroom. The hybrid classroom, mixing varying amounts of physical and online learning, is the best model for education in the 21st century.
The traditional model of education, rows of identical desks facing a slate blackboard with a single message, just doesn't work anymore. Everything has changed, from the way students sit to the tools teachers use to deliver their lessons. Teachers responded to our survey with enthusiasm and complex thought, demonstrating that they deeply care about how to reach their students and have a great deal more to contribute to the discussion.
Here are a few of their most insightful comments on hybrid education in general:
"I got to know all of the students quicker as I could use visual clues to see their backgrounds or profile pics. More kids can 'speak' at once in the chat, and quiet kids will speak up in the chat when they wouldn't have in person."

"Most of my kids come from low income families. They don't have access to computers, internet and, for some, electricity."




"Being able to form closer relationships instead of having to focus on behaviors/classroom management. I am a second year teacher and last year had a lot of classroom management problems. Those are almost nonexistent online so I can focus on building relationships and teaching."





"Physical classrooms make it easier for students to collaborate, but we can't do that in person anyway, so might as well be online."





"Collaboration, access to supplies, concrete learning tools, household distractions, social connections - all missing in remote. However, there are some positives. We also don't have all the conflict and many kids do seem to feel very comfy learning in their own homes and like to show pets, collections, siblings, etc. Might help those with school anxiety issues."
In the big picture, education wins when schools adapt their hybrid learning models based on greater teacher input and the entire district has access to the latest technology.
OneScreen Offers a Range of Solutions
Although no one could have predicted how 2020 would play out in reality, many of the underlying issues have been haunting educators for some time. These challenges have only been accelerated and accentuated by the global crisis.
For example, safety in entryway management has been a concern for school leaders for many years. OneScreen GoSafe protects entryways in a number of ways. Under current conditions, GoSafe can be set to automatically scan for any signs of fever and verify that masks are in place. After the crisis is over, GoSafe can be adjusted to recognized faces or scan for student and teacher ID cards. The GoSafe kiosk carries an AI-enhanced Snapdragon processor from Qualcomm to assure speed and accuracy where it matters most.
OneScreen has worked closely with teachers for over a decade to pinpoint and address their needs in any classroom - physical, virtual or hybrid. OneScreen Hubware combines all of the classroom technology and educational resources teachers need into one simple, intuitive smart board. With Hubware teachers can:
instantly project their laptops screens up on the wall for all to see
invite students to interact with animations or video in real time
annotate files, images, student contributions, right on the board
send tests to all student tablets and collect their answers remotely
forward recorded lessons to students who can't be there in person
take attendance automatically whether the student is in the room or at home
One service that absolutely distinguishes OneScreen in the field, however, is the Screen Skills Guru team. This group of experts are available for teachers and staff to call for help or training as needed. Unlimited, free help and support from OneScreen can't be matched, and it's only possible thanks to the intuitive designs of OneScreen smart boards and the dedication of Screen Skills Gurus.
To see news reports and case studies on schools that have already chosen to work with OneScreen, visit our Media Resources page.