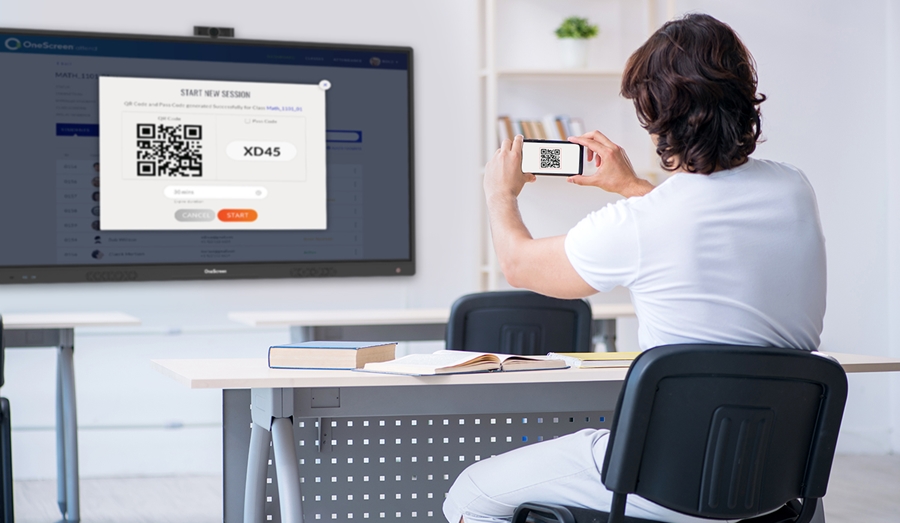 A classroom is no longer a place. It's a learning environment that includes both online and offline students coming together under a variety of configurations. Schools have had to adapt quickly to the COVID-19 crisis with little notice and tight limits on their funding. Teachers rose to the challenge and redefined the classroom experience. Over the summer, educators have sought out advice on how to build a better set of hybrid learning systems for 2021.
We've also taken that time to survey our own OneScreen customers with 1-3 years of experience with remote and hybrid learning programs. Teachers offered feedback and advice on how to improve school performance and make it easier for students to learn, whether they are in the classroom or joining remotely. We combined their responses into ten suggestions recognizing the greatest value from education technology and how to bring everyone together safely in the classroom of the future.
Here's what they said:
1 - Replace the white board with an interactive flat panel
Over the years, teachers have learned how to make the best out of whatever technology they can get. They used dry-erase boards, projectors and student mobile devices to deliver information as best they could. Now, teachers are being asked to replicate all of that for distance learning and hybrid education models.
The answer they found is that interactive displays bring together the best of education technologies into a single wall or cart mounted unit. Students can access the same lessons and a better learning experience in the classroom or at home.
2 - Put your lessons up on the interactive board wirelessly
No cables and touchless tech will be the way to go, even after COVID is no longer a threat. Interactive flat panels allow teachers to connect their laptops over Wi-Fi and simply use screen share to present their lessons. Teachers report that this reduces setup time and removes distractions during precious in-class instructional periods. This is also ideal for student presentations that they create on their own school-provided laptops.
3 - Allow teachers and students to make notes on the interactive board
Just because the lesson is digital doesn't mean that you still can't write notes on the board as you teach. Annotation functions give teachers the ability to treat digital images, including presentations and videos, like they were written up on a chalkboard. Teachers can explain with figures or invite students to answer questions on the interactive whiteboard. This is the best way to open up the physical classroom to input from students at home.
4 - Incorporate more streaming video from a variety of sources
There are many excellent video resources for teachers on the web that will illustrate your points clearly and succinctly, giving you more teaching time. If a picture is worth a thousand words, how much is a video worth. As a plus, teachers say that students are more engaged and retain information better when it's embedded in a format they love.
5 - Make the best use of free online resources
There are tons of sites online that say they have free resources for teachers, but it doesn't take long to get discouraged by the quality of those sites. Educators must be careful to only use resources that are appropriate for each grade level and integrate core curriculum objectives. That's why portals like Zuni Learning Tree are essential tools for accessing the best resources. Zuni is a teacher-created site that does the searching and vetting of resources for you, eliminating hours of work and frustration.
6 - Email out full recorded lessons or notes in a .pdf
In the days of chalkboards and whiteboards, everything a teacher wrote up there was temporary and fleeting. Learning depended on the student's ability to take notes accurately and completely, which favored some students over others. Now, teachers with an interactive display say they love being able to save their handwritten annotations and email them out to students or parents as needed. Teachers using this technique have reported improvements to class performance overall and more effective parent-teacher collaborations.
7 - Get help and training on the fly
Many education tech devices go unused in schools around the country every year because teachers never got adequate training and support. With increasing demands and less class time for lessons, teachers simply couldn't take the time to learn how to use those devices effectively. Make sure your district's next edtech purchase includes on-screen help and training from experts.
8 - Prioritize school security in choosing education tech for the classroom
In the early days of responses to the current pandemic, schools implemented whatever remote learning resources they could find and afford. Now, as the new school year begins, educators have more time to devote to security and district network integrity. This means not only reviewing education tech devices for their security profiles, but also considering which ones reduce the burden on district IT services. Students, parents and administrators need to know that educators are doing everything possible to prevent a breach of sensitive information.
9 - Save classroom time by bringing attendance online
Attendance is a cornerstone of the classroom experience, but it has also been a labor intensive drain on teachers and taken too much time away from learning. After all, the attendance list is compiled each day, that data must be sent to the administration in some form, often on sheets of paper. New interactive flat panels come with an attendance function that allow students to mark themselves present right from their laptops or phones, either in the classroom or at home. Now that data can be stored online and shared with the stakeholders who need to know.
10 - Reduce the reporting burden with network integration
Teachers are responsible for a great deal of information about the classroom beyond just attendance. Eventually, all of that data needs to be entered into the district system, which is time intensive and can introduce human error. With an interactive display connected to the local network, teachers can capture classroom data directly and transfer it instantly to the local network for administrative review.
The Classroom of the Very Near Future
Educators have not faced a challenge like COVID in more than a generation, but fortunately education technology has made great leaps in the past few years and these new tools can help them meet that challenge. While there have been hybrid online and offline learning strategies in place for years, these new demands have accelerated that transformation. Educators are just now learning which tools they need and how to use them effectively. Along the way, they are redefining the entire educational experience so students can adapt to a faster, brighter, even unpredictable future.