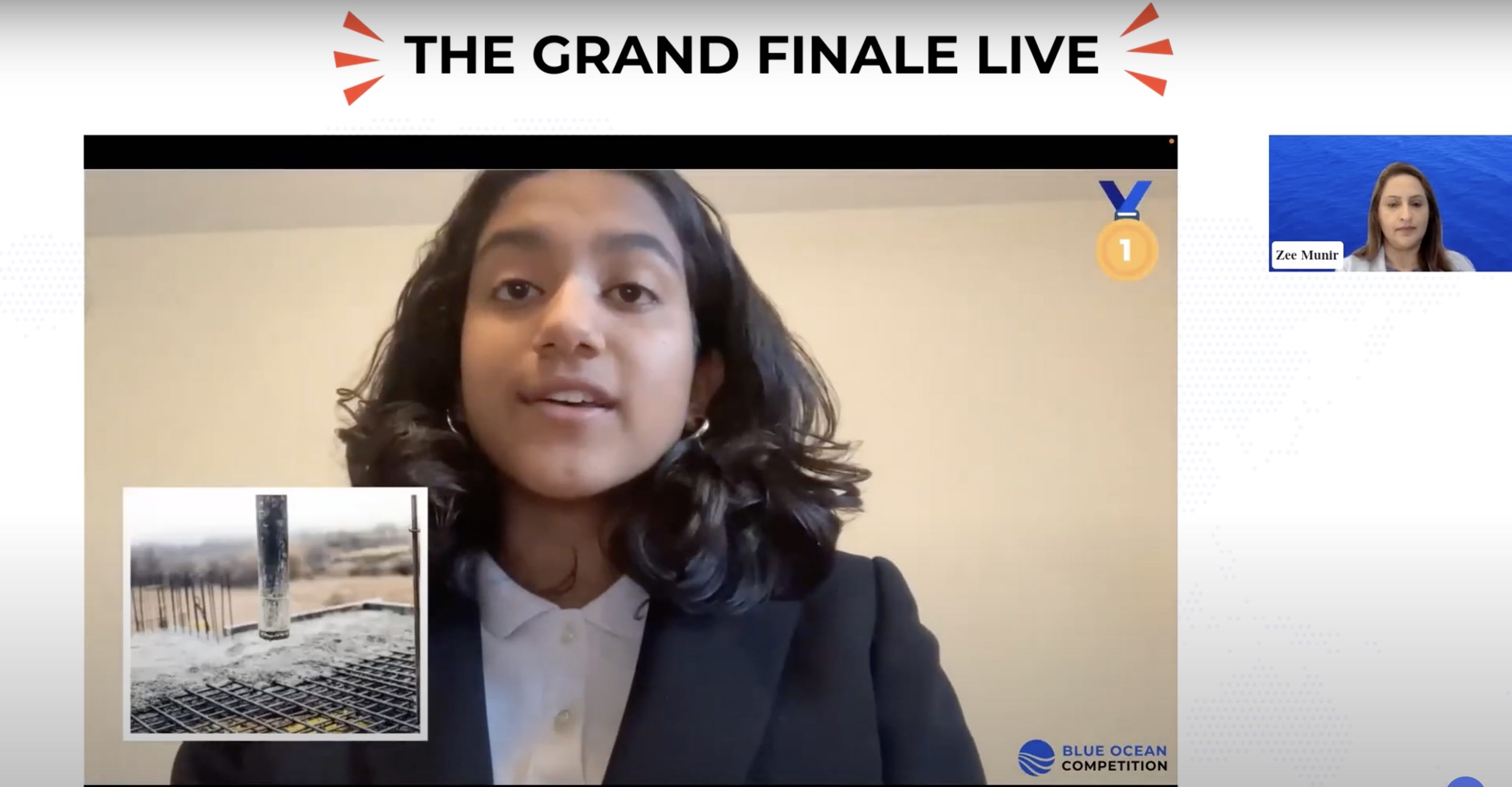 Creative business proposals from high school students took the stage for a chance at prize money and a 75" Touchscreen from OneScreen.
The 14th Annual Blue Ocean Student Entrepreneurship Competition has selected the winners of the most innovative business proposals from high school students in 2023.
With participation from 5000+ students from 146 countries and 46 US States this year, the Blue Ocean Student Entrepreneur Competition encourages and provide a forum for students to research, design and present ground-breaking business concepts.
This year's grand finale event was hosted by Zunaira Munir, OneScreen's VP Enterprise Partnerships & Global Business as well as the Executive Director of the non-profit Blue Ocean Student Entrepreneurs Inc.
The top cash award went to:
- 1st place: Recon - Isheta Kulshreshtha, Sahaana Rajagopalan, Iveena Mukherjee (Charter School of Wilmington, DE)
Recon's business concept was a new method of concrete composition that makes the material less expensive, denser, stronger, more resistant to water damage and traps CO2 emissions, making the entire process carbon negative.
Other winners included:
- 2nd place: Solventus - Shourya Mehta (Adlai E. Stevenson High School, IL)
- 3rd place: BugzFeed - Trontour Wang, Anthony Zhao, Anika Saraf, Evan Huang, Arjun Bangalore (Thomas Jefferson High School for Science and Technology, VA)
- People's Choice Award: TexCrete – Neel Kondapalli, Satwik Panigrahi (Dougherty Valley High School, CA)
- Top International Pitch: The Road Turbine – Emil Pedersen, Kasper Skibsted (Herningshold Erhvervsskole Og Gymnasier, Denmark)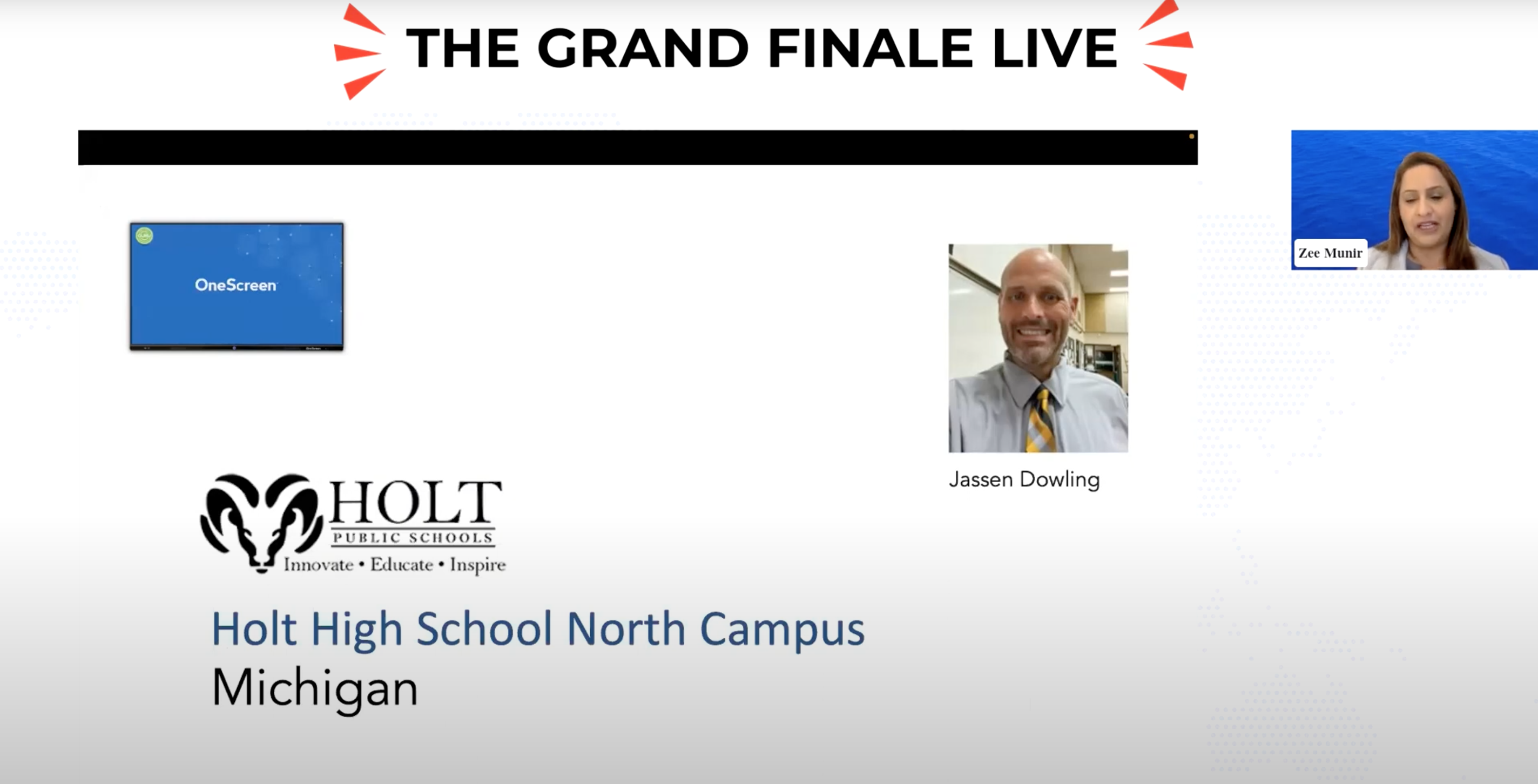 In addition, Jassen Dowling, Business Education Teacher at Holt High School, MI, took home a 75" Touchscreen for his classroom in recognition of his work to champion the Blue Ocean competition and integrating its principles into his coursework.
Blue Ocean is an innovation strategy introduced by W. Chan Kim and Renée Mauborgne, professors at INSEAD. Their concept is that a Blue Ocean represents unexplored new market areas compared to the Red Ocean of intense competition, where too many sharks in the water make real progress impossible.
Mauborgne spoke at the event and commended the Blue Ocean Contest team for supporting students in their efforts to "bring ideas to life that can help to change the world, help change our economies and build hope for society through businesses that can serve our needs in a breakthrough way. It's very inspiring."
Look for more on this story in the days ahead.
Watch the students present their ingenious inventions at the awards ceremony.
OneScreen is committed to introducing innovative products and services to the EdTech space. As part of our social responsibility initiatives, we support creative learning programs and original technology that can make a difference in the lives of students everywhere.