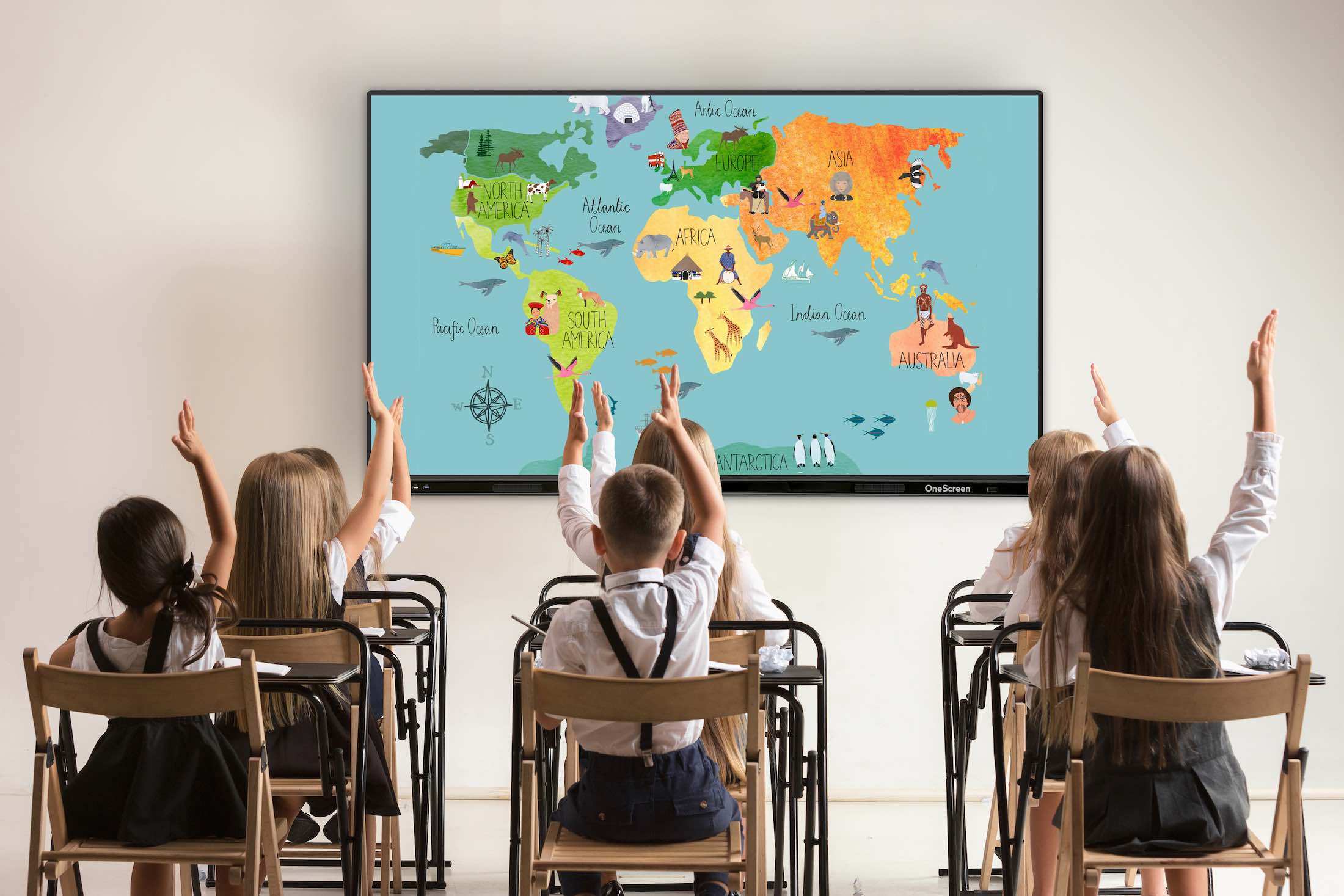 Student Engagement with Touchscreens
When the School News Network identified Engagement as "The Most Important Measure of Student Success," parents, teachers and administrators took notice.
Students who are engaged stay motivated and are more likely to retain information longer. They are inclined to seek out new material independently.
This is one area where academic research agrees with anecdotal evidence from classrooms around the world. Kids that get involved see results, and drive performance achievements for their schools.
4 Tips For Promoting Student Participation with Touchscreens
For all teachers who are looking for new ways of engaging students, and holding onto that interest level, we've put together 4 tips, based on what has actually worked in today's hybrid classroom.
1 Remote collaboration
Having students stuck at home used to be a stumbling block to learning. Individual worksheets and online assignments on sites like IXL can help but they can't help children develop toward Social, Emotional Learning goals. Interactive touchscreens allow students at home to take part in group activities and continue to build bonds with their classmates.
2 Virtual field trips
The lockdowns of the past few years made teachers more creative about how to introduce their classes to new locations and spark discussions about them. With a touchscreen, a teacher can display images or video and write notes on the screen using Annotate software. Students can research what they like best about the destination, whether it's a country, a museum, an industry or a local landmark.
3 Classroom Competitions
Competition is a strong motivator. Learning games and in-class teams have been a feature of learning from the very beginning but touchscreens put a new high-tech spin on what's possible. Students at the board can write their answers in white on a white background, so there's no cheating, then change the font color to reveal their answers. With access to all the learning apps in the Google Play store, there's always a new way to make education fun.
4 Drawing Out Cautious Students
The differences between the communication styles of boys and girls or extroverts vs. introverts has plagued teachers forever. Certain kids always have their hands up and other kids just won't draw attention to themselves. It's almost impossible to know if quieter students understood the lesson. The answer is electronic sticky notes that students can send from their tablets or chromebooks. Touchscreens offer a host of ways that students can answer questions in a way that is more comfortable for them, so teachers to know that their words are really getting through.
OneScreen Strives to Make Learning Fun and Collaborative With Touchscreens

Advanced EdTech tools from OneScreen captivate students and offer unique visual elements that make learning fun, competitive, imaginative, and rewarding.
Whiteboards and projectors had their time, but now students need more sophisticated tools to succeed in the world beyond the classroom.
Learn more about how teachers are using OneScreen Touchscreens for stronger engagement today.