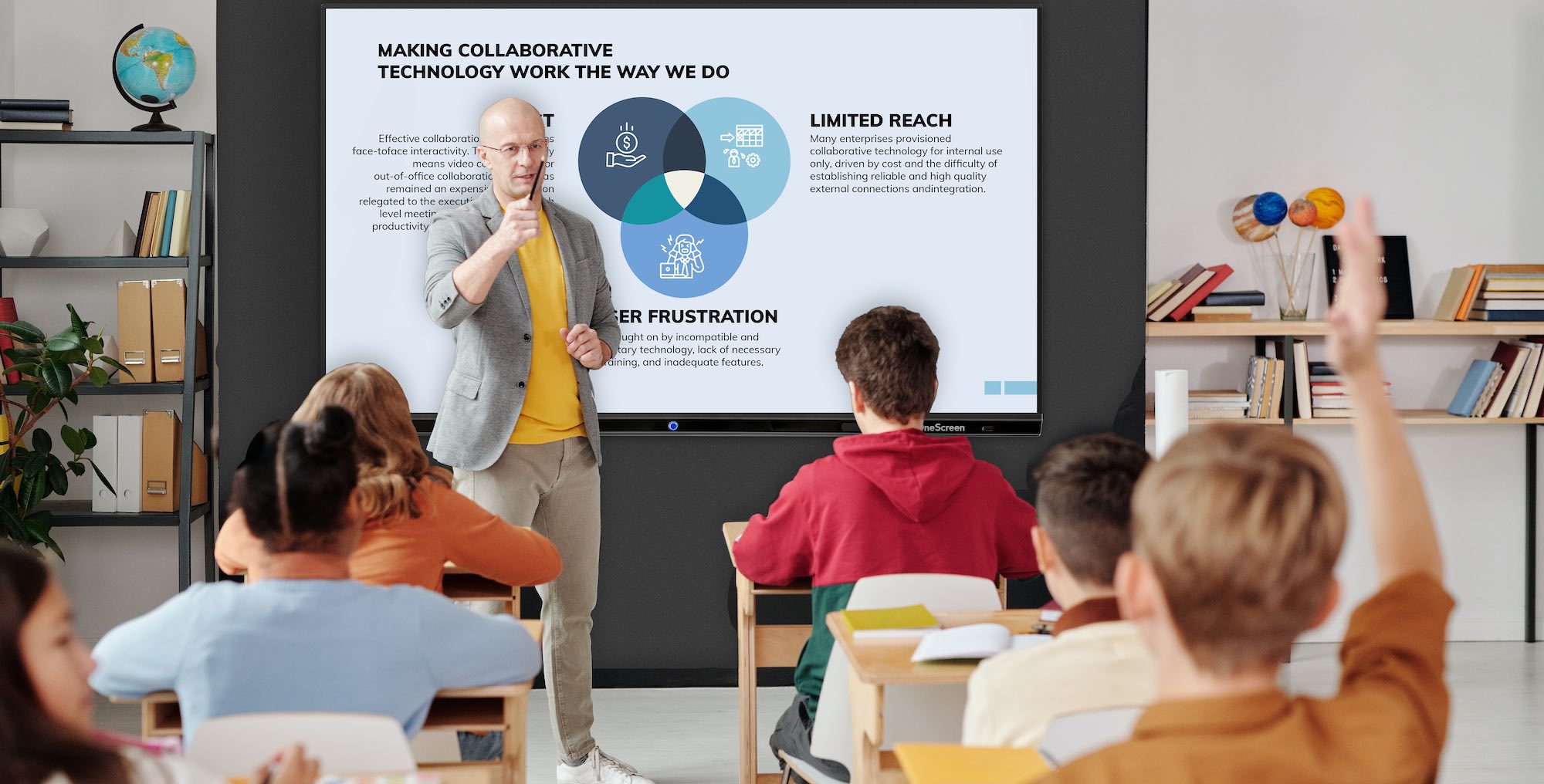 While educators face many challenges in connecting with students, fostering stronger engagement can be one of the most elusive.
Students generally must deal with countless distractions both in and beyond the classroom, even mores when they are logging in remotely, making it harder to concentrate on the lessons. Some educators suggest that rapid fire stimulation from media like TikTok and smartphone notifications make it more difficult to hold the attention of modern students.
The great news is that educators now have a new tool in the fight to boost student engagement: Touchscreens in the classroom.
Whether the students are in-person or remote, interactive games and learning materials have proven that there is a strong link between greater engagement and better test scores.
Below, we examine this link and discuss the number one tool educators can used to ramp up student engagement for the 2023 school year and far into the future.
See what OneScreen Hubware can do for your classroom. Download the infosheet.
Defining Student Engagement
According to the Glossary of Education Reform, student engagement is defined as the "degree of attention, curiosity, interest, optimism, and passion" that pupils exhibit while receiving instruction.
Students exhibiting a low level of engagement are often unmotivated and disinterested in the subject matter being presented. As a result, their ability to recall and retain the materials declines significantly.
Conversely, highly engaged students are more likely to retain educational content. More importantly, they are prone to participating in lessons, have a positive outlook toward the educational process, and often perform better than unengaged or minimally engaged students.
The Impact of Student Engagement on Test Scores
Over several decades, evidence has amassed from a multitude of studies examining the link between student engagement and test scores. A 1974 study analyzed a group of first-grade students while they were receiving reading instruction. The group consisted of both male and female students and included 88 pupils.
In the 1990s, researchers concluded that "Engagement (defined as effort and initiative taking) were positively correlated with grades from the end of the previous year and achievement test scores."
That's backed up with the latest survey results from the Alberta Teachers Association in 2021. They found that engagement was at the heart of increased classroom participation, better test grades and higher school performance overall.
Researchers also reported that students who exhibited the highest levels of attention and engagement had higher word recognition rates. This is just a single example of the close connection between engagement and test scores.
While a small percentage of students have an abundance of innate motivation to succeed academically, the majority of pupils will be minimally involved in instruction unless educators actively drive engagement.
"Engagement (defined as effort and initiative taking) were positively correlated with grades from the end of the previous year and achievement test scores."
How to Foster Higher Student Engagement
Technology such as smartphones has directly impacted declining student engagement and academic performance. It seems only fitting that another form of technology holds the key to reversing this trend and increasing better student engagement in the classroom. This technology is smart screens.
By deploying touchscreens in classrooms, school leadership can provide educators with a means of creating interactive lessons, which keep the students interested and engaged.
Touchscreens are versatile devices that can display video content or get students involved with otherwise passive processes, such as proofreading papers. Teachers can even allow students to present projects or lead micro lessons via smart screens.
Touchscreens from OneScreen are not only multifunctional. They are also more accessible than ever before. Our unique subscription-based purchase model allows schools like yours to sign up for affordable monthly memberships in exchange for rapid access to the latest EdTech instead of waiting until the school can afford the full price for all the Touchscreens up front.
To learn more —and get your students more engaged—book your free demo with OneScreen.