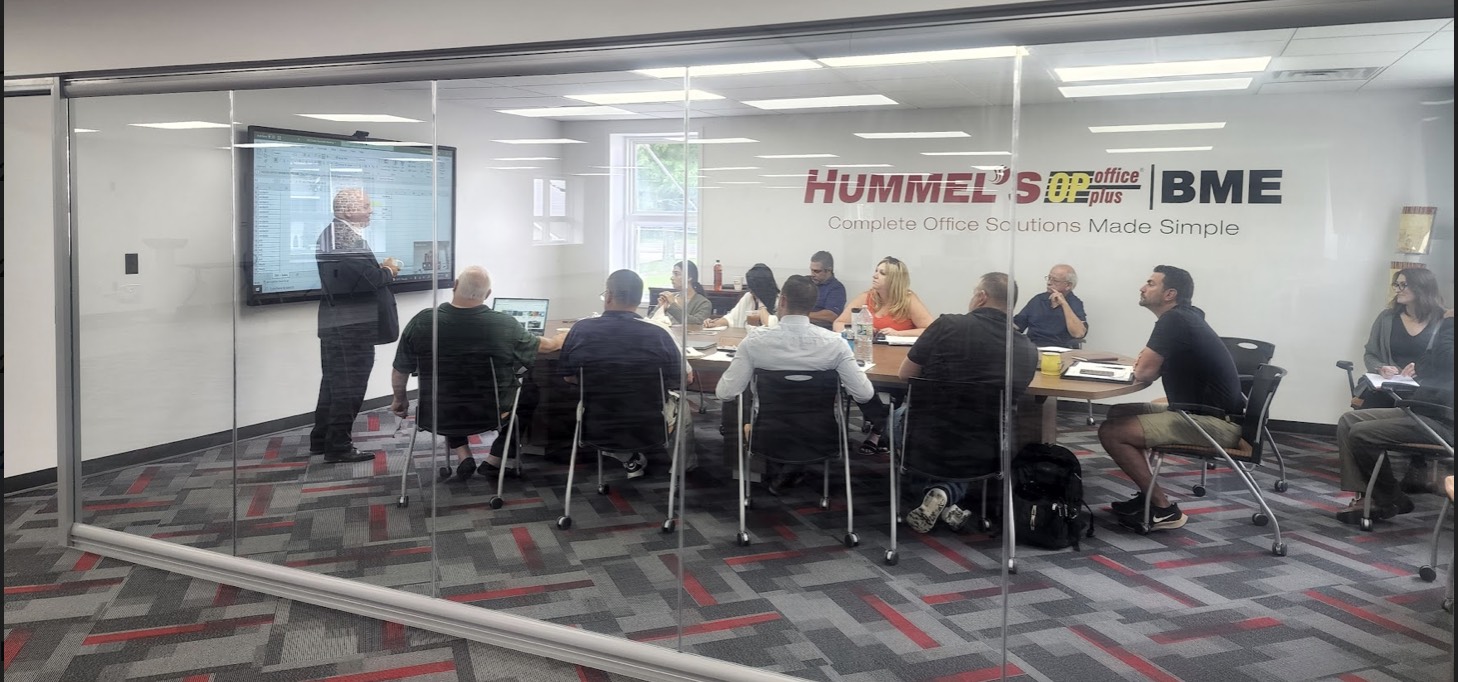 Hummel's
Office Plus: A Leader in Diverse and Inclusive Office and Classroom Solutions
Hummel's Office Plus was founded in 1934 by Harrison J. Hummel as Excello Typewriter. In 1940, Hummel opened for retail business as Excello Office Supply in Herkimer, NY. In this small shop, he repaired typewriters and sold typing paper, ribbons, and other typing supplies. After becoming a part of the Office Plus buying cooperative and gaining a tremendous amount of buying power, Hummel's has been able to transform from a modest storefront to an 80,000 square foot distribution center.
Today, Hummel's Office Plus is the largest independent office supply dealer in upstate New York.
How Hummel Partnered With OneScreen to Transition In-Person Teams to Remote
In 2018, Hummel's turned to OneScreen for help in building a more diverse and inclusive offering to answer all the variations of modern hybrid office and classroom. This positioned them well to handle the dramatic switch from in-person to remote teams during the pandemic, but it also gave Hummel's the lead in making shared spaces more accessible for those with disabilities. They've seen demand take off with over 100 OneScreen displays sold in the past few years.
Serving both education and business customers, Hummel's found that simplicity in design and durability for heavy use were the qualities that drew them to OneScreen.
"If you put the time in and do your homework, OneScreen wins hands down," said Hummel's CEO Justin Hummel.
Hummel's CEO Justin Hummel relies on OneScreen for making his presentations come to life.
Innovations for the Modern Office and Classroom
For service beyond the sale, Hummel's specializes in white glove service for install, set up and training. Working hand-in-hand with OneScreen Screen Skills Gurus, the Hummel's support team is there to make sure customers know how to get the most value from every purchase.
This year, Hummel's is opening a new facility to handle their growth and OneScreen will be in all the conference rooms. Up next, Hummel's is preparing to add OneScreen security cameras and the new video wall - OneScreen Virtual Wall – to their comprehensive offerings for school or office. As the only stocking Reseller in the Northeast, Hummel's has the speed advantage in delivering what customers want right away.
Thanks to everyone at Hummel's for their hard work and dedication to knocking down barriers for more inclusive collaboration.