AD Micro Provides IT Support for Canada's West Coast
AD Micro has expanded to become the number one name for high-quality tech and managed IT services in Canada's Lower Mainland - covering Vancouver, BC, and the wider Fraser Valley region. Kimson Dy Ning founded the company in 1992 with the goal of providing "responsive, affordable, and hassle-free IT services to companies of all sizes."
Over the past few years, Kimson and his crew have gone far beyond that initial mission to take on more responsibilities and capabilities. Many of the organizations in the region have now completely outsourced their IT infrastructure and printer/copier networks to the wizards at AD Micro.
---
"Kimson has been just an excellent partner over the years... I can always count on him to have a lot of irons in the fire."
- Lincoln Vaz, Country Manager Canada
---
AD Micro & OneScreen's Empowering Partnership
AD Micro called on OneScreen when clients came to them in search of state-of-the-art interactive flat panel displays with 4K resolution and annotation software capable of effortlessly registering input from either a stylus or fingers.
Lincoln Vaz, OneScreen's Country Manager for Canada, was thrilled to offer Kimson whatever he needed to serve his client base. Lincoln remarked, "Kimson has been just an excellent partner over the years, introducing us to new clients like the leaders of the Tsleil-Waututh Nation and new industries like the healthcare sector. I can always count on him to have a lot of irons in the fire."
Today, AD Micro has built up a reputation for service after the sale, capitalizing on free help and training from our Screen Skills Gurus. The dynamic between the Gurus and the tech experts at AD Micro has empowered their customers to get the most out of everything they purchased. High-quality tech, combined with personalized training and intelligent troubleshooting, grows in value over time, turning office essentials into critical competitive advantages.
As AD Micro grew, they established an expanding network of OneScreen customers through a chain of enthusiastic referrals. "I love how easy it is to operate any OneScreen device and admire the smooth operations," Kimson added. "My team and I spent just one hour learning how to use a Touchscreen before we were able to fully demo it with confidence for prospective customers."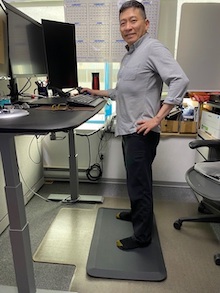 AD Micro founder Kimson Dy Ning.
AD Micro: The Go-To for High-Quality Tech & Managed IT Services
Customers depend on AD Micro for their experience with managed IT services, network infrastructure, security, disaster recovery, cloud backups, printer/copier maintenance and just about everything related to dedicated servers or workstations.
Because AD Micro covers such a wide range of territory and customers along Canada's West Coast, "versatility and interoperability" have been their defining advantage. They found OneScreen to be perfectly aligned with their objective of adapting to the needs of any platform - Chrome, Apple, Android, etc. - with software like EShare for knocking down traditional barriers to collaboration.
The OneScreen team in North America owes a great deal of thanks to Kimson and his entire crew for their dedication, commitment and enthusiasm in meeting customer needs. Here's to more success the road ahead!