In Part I of Are We Asking Too Much of Teachers, we reviewed answers from our survey of teachers, primarily in the US, about their biggest concerns in the reopening of schools. We also asked whether they felt that the definition of teaching had changed forever.
We went deeper in Part II, moving on to what could be done to address those concerns. Their answers were thoughtful, complex, creative, emotional and sometimes even heart-breaking.
Early this year, the the Association for Supervision and Curriculum Development (ASCD) advised principals on Six ways to support teachers now, with an emphasis on reducing the number of expectations on teachers during this difficult time.
Our survey echoed that with specific examples of what the larger education community can do to help children learn and grow in the new hybrid world.
Question 1:
What kind of support for teachers would be most valuable now?
Better communication about expectations - 26%
More support from parents and the community - 21%
Tie - Better classroom tech and training - 17%
Tie - Better safety measures (equipment and procedures) 17%
More funding for schools - 13%
All of the above - 4%
There are no problems/Kids just need to go back - 2%
Top responses in what kind of support teachers need
The number one support most desired by teachers would cost nothing at all. It involves better planning, better communication and a reset to the expectations put on them during this crucial period. More than a quarter (26%) said that these misconnects are hindering their performance.
Representative answers included:
"Parents want their babysitters, admin wants their tests and 'Back to normal' which doesn't exist, and no one listens to what teachers, who are indeed the educational experts, think or feel."
"Open and honest communication. Be real with the numbers. We know there are thousands of unreported cases and we know we have sick kids at school. Listen to and believe the teachers and act accordingly."
"We need curriculum guidance on where we're at now."
"Better communication between teachers and administrative staff over expectations and teacher needs."
In second place, 21% of teachers wanted the larger community to support schools by addressing practical issues and educational inequalities.
Representative answers included:
"People in the community need to follow safety guidelines.
"More equity across communities -- we've been hybrid since October."
Tied for third place, with 17% of the answers, were the two issues related to technology. The first group centered around new learning technology in the classroom. The second is safety equipment and procedures to reduce the risks of infection, which will continue to be an issue in the foreseeable future.
Representative answers included:
"Better distance learning technology in the classroom with adequate training."
"Safeguards in the classrooms - desk shields, ventilation. Extra masks, hand washing stations, hand sanitizer dispensers."
"Everyone must be on board with CDC guidelines. Currently not happening in my system. We have been hybrid since Aug. 7."
It's worth noting here that the need for additional school funding, which had been a major focus of past studies, came in fourth place at 13% due to all the new challenges of the post-COVID world.
A small but significant number of teachers (3%) answered that students simply needed to return to in-person learning or that reported problems are exaggerated.
Representative answers included:
"Go back to school."
"My district has been back all year with the exception of about 2 1/2 weeks when we had too many staff members out on quarantine. No problems!"
"I don't understand why I continue to hear teachers say, 'We need more support.' As a professional adult it is your responsibility to teach yourself, do your job, and be of service to your students. If you don't or can't do that, you should not choose this profession."
Question 2:
What would improve the hybrid learning experience for teachers and students?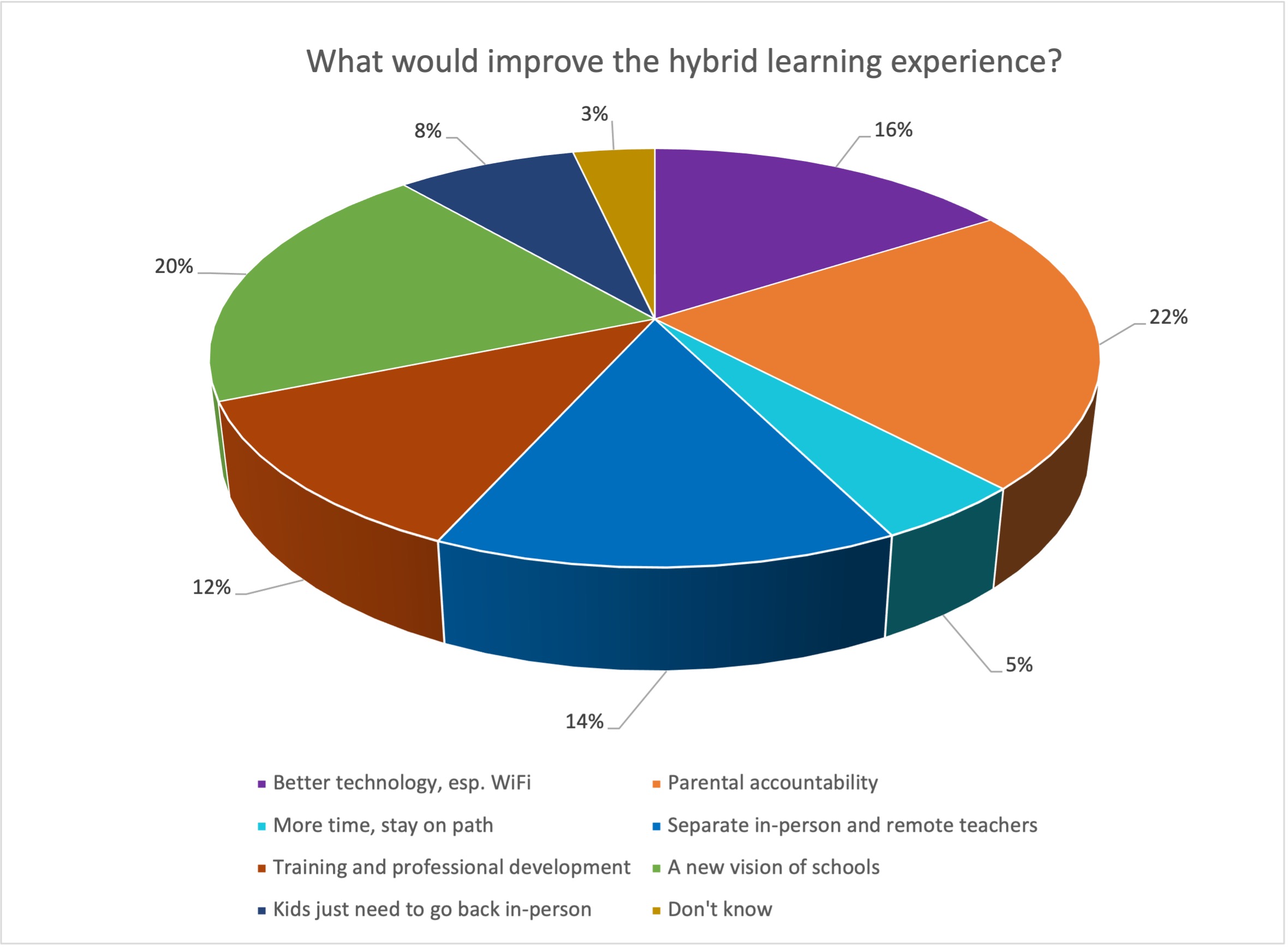 Greater accountability and involvement by parents - 22%
A new vision of how hybrid learning is structured - 20%
Better technology and reliable WiFi for every student - 16%
Separate in-person and remote teachers - 14%
More training on technology and new teaching strategies - 12%
Kids just need to go back to school in person - 8%
Things are working, just need to stay on the path - 5%
Don't know - 3%
This is the question that garnered the most energized responses and the widest variety of answers from teachers.
Last fall, Pew Research reported that for hybrid learning students, more than two-thirds of parents (68%) were concerned that their children were falling behind in education.
Meanwhile, the Washington Post covered evidence from social media that Distance learning is straining parent-teacher relationships.
That strain was front and center in answers from our survey as well.
Top responses on how to 'fix' hybrid learning and a new vision of school
The top change would improve hybrid learning according to the teachers in our survey was greater involvement by parents in the new educational reality. The word that came up over and over from independent sources was "accountability." About a quarter of teachers (22%) expressed frustration that students were disengaged or distracted at home, yet parents did not take responsibility for providing an adequate learning environment.
Representative answers included:
"More parental or adult support. Many students cannot navigate the digital platforms independently."
"More commitment from the parents, so kids have their materials ready (I teach 4-7 year olds)"
"Students and parents need to take online learning seriously! Parents: check in on your child and respond to teacher emails. Students: be ready for class! Get out of bed, get dressed for the day, don't eat during class instructional time, sit at a desk or table free from distracting pets or siblings, engage in the class discussion/ask questions."
The second most common response - for 1 out of every 5 teachers - was really a compendium of responses that all expressed the need for a new vision of education in the post-COVID. Their responses covered changing the hours of remote learning (both in timing and amount), a refocus away from testing to mental health and throwing out assumptions that are no longer valid.
Representative answers included:
"Making a better curriculum that goes with students of today."
"Timing....why 7-3??"
"Teachers should not try to replicate the exact classroom experience online. Administrators need to support teachers in reimagining their curriculum for online learning, especially for things like open-book exams or group projects using online collaboration."
"Temporarily removing standardized exams until we can have standardized exams be taken on a computer. If the tests were on a computer, we could make the switch to practicing keyboarding and other computer test strategies."
This category contained a heart-breaking answer from one teacher's very personal experience of loss and the unseen, devastating impact that COVID has had on children.
"Less focus on academics and more focus on safety and mental health. I do not say this lightly. My 16 year old daughter took her life in September and wrote a letter in which she wrote almost an entire page on Covid and its effect. In my school we lost a teacher to Covid. In my district we lost an interpreter. Kids' mental health is suffering and I don't expect that to just change because kids start "all in." Schools need more mental health professionals and teachers need more knowledge. Administration, especially, needs to take mental health more seriously. My daughter was on a 504 plan that was not followed and every time it wasn't followed, the administration defended not following the 504. It's popular for schools to talk about the importance of mental health, but the actual help they offer is nearly nonexistent. They just want to sound good. An example - I have a 10 year old daughter and 13 year old son and the guidance counselor at both schools hasn't even sent an email or phone call to check on them. Meanwhile, the superintendent talks a big talk about the importance of mental health, but hasn't even acknowledged my daughters death. So, to improve online learning, a much larger than normal focus on the mental health of the students, and probably teachers too."
The next three sets of answers all dealt with new classroom technology and the varying comfort levels that teachers have with it. Better devices for every student and high speed WiFi were considered essential by 16% of teachers. Just as in Part I of this series, we also saw a large percentage (14%) who said that teachers should not be expected to handle both in-person and remote students at the same time. For 12% of teachers, that new technology will not be effective, however, unless teachers also receive more training on how to use it and what role it should play in their teaching strategies.
The biggest takeaway from our Teacher Survey
Perhaps the biggest takeaway is that teachers have already begun creating a new vision of what school means - both how it is structured and what it can achieve. The centerpiece of this new vision appears to be better communication with and greater accountability for parents, who have become co-teachers by default due to hybrid learning.
Better technology and training are also cornerstones of this new vision. Teachers want more training on all the new tech and how to be more effective in the new hybrid world. For many teachers, this means specializing in either in-person or remote learning because they have been overwhelmed by trying to do both.
Finally, this new vision incorporates aspects of child development that have not been traditionally part of a teacher's job responsibility, such as tracking the mental health impacts of recent changes in society and assuring that all students have equal access to technology, in and out of the classroom.
To go deeper into any of these issues, contact OneScreen and learn more about classroom technology, smart schools, unlimited training, help on demand for teachers, new funding for schools in the latest federal legislation and purchase options that reduce upfront costs while keeping your school automatically upgraded to the most current technology.