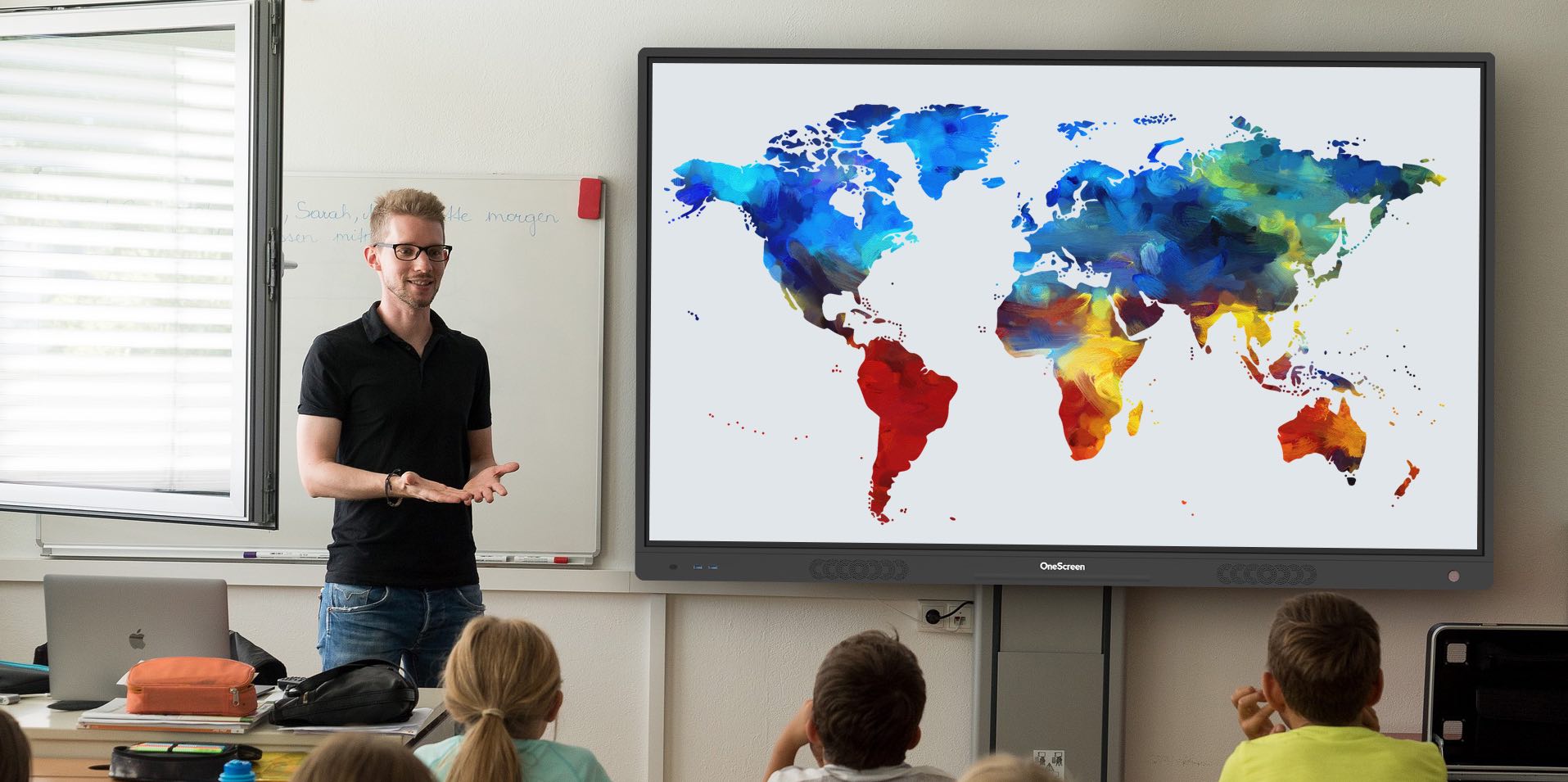 Every school has a unique set of specific goals that they strive to achieve.. These goals may include improving student test scores, improving teacher effectiveness, increasing student performance, and creating a welcoming learning environment.
There's a valuable piece of educational technology hidden in plain sight that can help them achieve those goals: smartboards.
Here's a closer look at how schools benefit from having smartboard technology in the classroom. In addition, there's an innovative new purchase path that allows schools to equip all classrooms with this exciting piece of EdTech while staying under budget.
Smartboards:

Technology in the Classroom in Service of the Goal
There are many benefits of using smartboard technology in the classroom. Here are some of the best advantages that these innovative tools provide:
Improves Teacher Effectiveness
Smartboards are an extremely user-friendly learning tool. This means that you can easily train your staff on the use of smartboards so that they can incorporate them into their lesson plans.
Smartboards make teachers more effective by allowing them to create interactive lessons. They can tailor their learning materials in a way that encourages student engagement. In turn, this will create a positive feedback loop that enhances staff morale.
WIth a smartboard in place, teachers won't have to make as many copies of handouts and worksheets. This will save your school money while also reducing its environmental impact.
Boosts Student Performance
Perhaps the most significant benefit of smartboard technology in the classroom is that it can boost student performance. In a 2017 study on technology in the classroom, researchers examined how smartboards impacted students. While conducting the study, they examined the following four components of student performance:
Order and organization
Level of clarity
Level of interest
Overall satisfaction
The researchers discovered that the use of smartboard technology significantly increased the level of clarity among participants. Students better understood the materials being presented to them when a smartboard was incorporated into the lesson.
Researchers also found that students experienced a higher level of general satisfaction with the learning experience.
Requires Minimal Maintenance
Smartboard technology not only improves the lives of students and staff, but it also reduces the burden on administrative staff. These devices require minimal maintenance and do not require traditionally messy supplies such as markers or chalk.
Smartboards are also very easy to clean, making them a great tool in an era of increased emphasis on sanitization.
Funding Technology in the Classroom
For most schools, the biggest barrier that is preventing them from implementing smartboard technology in the classroom is funding. Fortunately, OneScreen Solutions can help with our subscription service.
You don't have to purchase your smartboards piecemeal or with a massive lump-sum investment. OneScreen allows you to outfit your school with EdTech for a low monthly cost.
Our subscription program will help you ensure that your staff and students have the tools that they need to succeed. The OneScreen Subscription service includes an advanced warranty, free and unlimited IT help, and an automatic upgrade program that gives you brand-new tech every three years.
When you are ready to learn more about this exciting way to incorporate smartboard technology in your classroom, check out our How to Buy page.