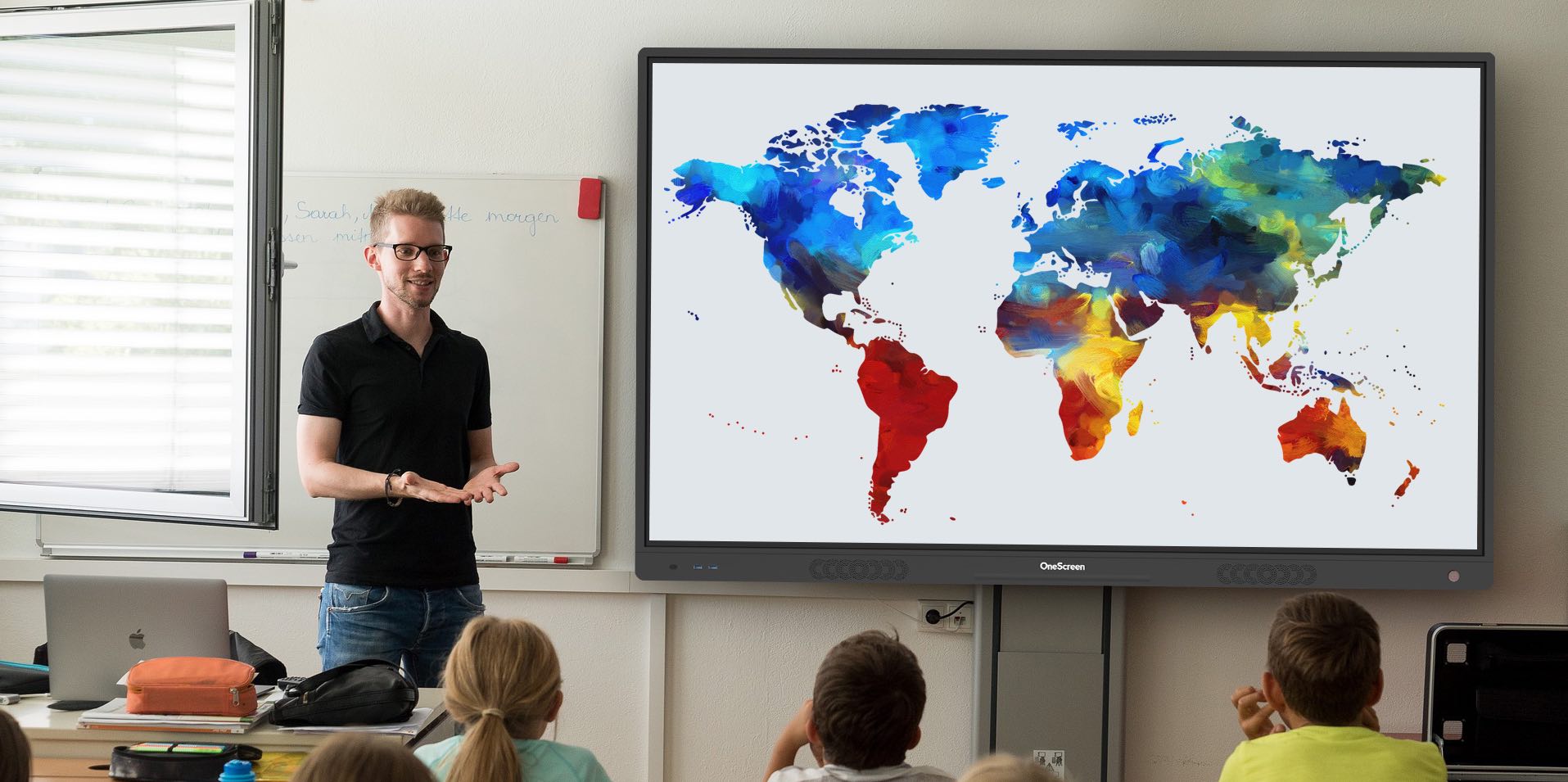 Lesson Plans for Substitute Teachers
After the turbulence of the past two years, educators are looking for creative ways to help students get ahead both academically and socially. Increasingly, school leaders are turning to interactive whiteboards to broaden the range of learning materials, enhance engagement, promote classroom retention rates, and improve the learning process overall. Interactive whiteboards accomplish this through videos, apps, original visualizations, virtual experiences, gamification, and video calls with real-world experts.
4 Ways Substitutes Can Supplement Lessons With Interactive Whiteboards
In traditional classrooms, substitute teachers would fill in for missing teachers by playing a topic-related movie or leading students in simple games to keep them entertained and excited about learning.
Now, substitutes with access to an interactive whiteboard can make a world of difference and keep the class on track to meet all their curriculum goals.
Take a look at some of the creative teaching options that substitutes have to make learning fun, exciting and productive.
Educational games to spark competitive learning. Interactive whiteboards from OneScreen allow teachers to download any of the free educational game apps in the Google Play store. Students can get up in front of the class to draw, write, and answer quiz questions. They can choose from multiple choice options or fill in the blank for in-game prizes. Students love racing to answer questions, making the learning experience engaging, competitive and fun!
Virtual tours. Even when field trips aren't possible, the Internet and an interactive whiteboard will open up the world for any classroom. Students can virtually visit countries, museums, landmarks and historical events anywhere the substitute teacher wants them to go. This can easily apply to Algebra class, with students answering word problems about train travel, as it does to History class, where students can investigate real historical locations in detail.
Write their own stories. One of the most thrilling features of an interactive whiteboard for students is to write on the board with their fingers and watch the letters magically turn into printed text. Students can work in groups to add to the story with illustrations or clip art and then animate it with presentation apps. Students learn to work together productively, cooperate on a project, and explore their innate creativity. The entire lesson can be recorded and shared with other classes.
Video calls in the classroom. Substitute teachers can add another dimension to discussions of any topic by video conferencing with an expert. OneScreen interactive whiteboards come with video calling software to connect with anyone who is an authority on the subject. In-class visits have become more complicated in the current era of heightened security concerns, but video calls solve two problems at once. Your subject matter expert doesn't have to worry about travel time or going through security clearances. Students can ask questions and answer classroom polls during the call
Creative Teaching Options for Substitute Teachers
Interactive whiteboards represent the kind of EdTech that makes life easier for teachers. Substitutes can walk right up to the board and start teaching. The learning opportunities are literally endless.
Check out what's included in an interactive whiteboard from OneScreen.