Before the pandemic hit, the teacher shortage was already at a crisis point. The Economic Policy Institute reported in March of 2019, "The teacher shortage is real, large and growing, and worse than we thought".
In 2021, all the uncertainty around reopening schools, new safety measures and hybrid learning strategies has brought the underlying problem into sharp focus. We wanted to hear from teachers in their own words how things are going in their districts as the push for reopening intensifies. We also asked what they thought teaching will look like in the near future and what they needed to best manage this new reality.
Their answers were candid and often emotionally charged. Just as teachers themselves represent a wide diversity of thought, their views covered every angle from confidence to confusion over what students, parents and district leaders expected from them.
Before we dive into the data and derive insights, here are a few of the standout quotes from our survey:
"As a parent and a teacher, I feel that it is best for our students to be back in school!"
"There should be separate remote and in-person teachers, not one doing both. But there should always be remote options available."
"If it lasts past this year, I will leave teaching."
"Adults have the option to vaccinate--but what about students? Plus adults cannot be forced to vaccinate--what then???"
"How are teachers supposed to effectively teach a lesson to students online and in person simultaneously? Their attention will always be divided and there is no way that instruction can be to the level that is expected."
Now, let's look closer at what the changes in education today mean for the schools of tomorrow.
Question 1:
What is top of mind for you as the push for reopening schools is intensified?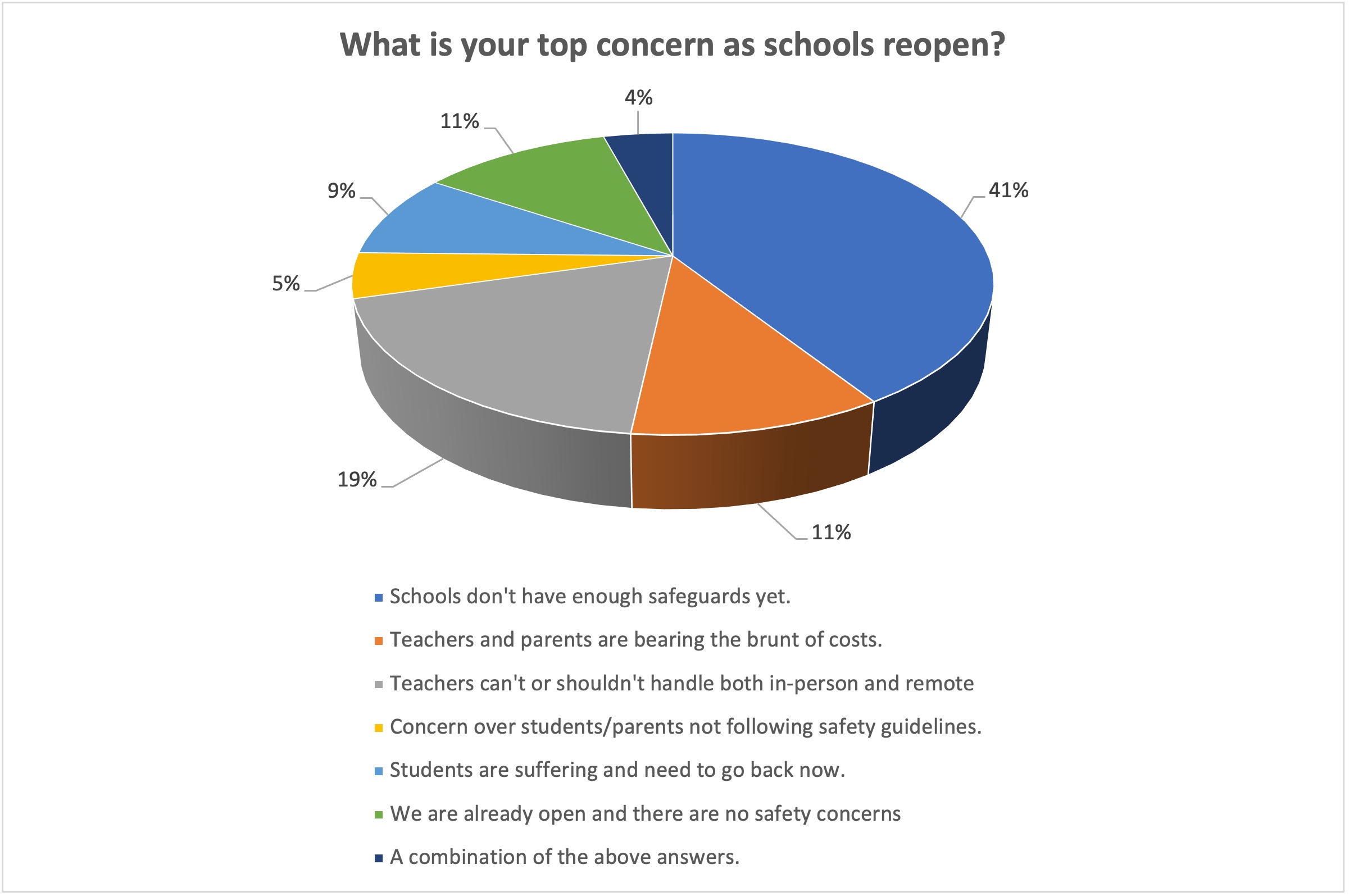 Since schools first closed more than a year ago, a substantial percentage of parents, teachers, child psychologists, school leaders and government officials have been eager and vocal about reopening schools. In the public sphere, this has often been referred to as "getting back to normal."
Along the same lines, immediately after he took office in January, President Biden pledged he would make sure that all schools would be open within 100 days. In response, some teachers and teacher unions pressed for caution as vaccines were not widely available and many schools were not prepared with adequate health protections.
The top 4 responses on reopening concerns and hybrid learning
The top answer from 41% of respondents was "Schools don't have enough safeguards and safety equipment yet."
Representative answers included:
"There are not enough resources available to support the academic and social emotional needs of kids coming back to school buildings after a year out."
"There isn't a real and sustainable plan to reopen schools. It sounds nice, but the protocols aren't in place."
"Teachers are not vaccinated yet in my state."
The second most common answer at 19% involved "Concern over the quality of hybrid education."
Representative answers included:
"The inequities that exist in the learning for students that choose to remain online."
"What is expected between hybrid and virtual learning. Teaching both at the same time. I'm all for school reopening but a solid plan where testing does not occur needs to be put in place."
Two answers tied for third place at 11% - the first came from teachers who responded "Our schools are already open and we have no safety concerns."
Representative answers included:
"Why are these states being so afraid? We have been in person since October with no transmission at school."
"We have been back since August and doing great."
"The parents are correct. School should have never been closed."
The second set of answers from 11% of teachers covered a host of issues related to "Teachers and parents are bearing the brunt of the costs."
Representative answers included:
"There are still a lot of costs that are unanswered. Bussing issues as well as having to wait 4-6 weeks for teachers to fully have immunity."
"School districts can't afford protective equipment so costs fall on teachers and parents."
An important note here is that this survey was taken before the federal government passed the Rescue America Plan, setting aside $130 billion to help schools cover the costs of reopening and upgrading classroom technology.
Taken together, those four categories of answers comprised 82% the responses we received.
Other significant responses on safety, student achievement and teacher expectations
The rest of the responses about what was top of mind for teachers as the push for reopening intensified were:
At 9% - "Students are suffering and need to go back to school." Ex. "Top of mind is just get them back to school!"
At 5% - "Concern for students/parents not following safety guidelines." Ex. "Students don't follow the safety protocols such as distancing and properly wearing masks."
At 4% - Some combination of the above answers. Ex. "The hardest thing has been constantly quarantining students and faculty who've had exposure. There are always people migrating in and out so basically all lessons have to be hybrid. It's not perfect but we make it work."
Question 2:
Do you believe a teacher's job description from this point forward will include accountability for both the in-school class and remote class curriculum?
Last year, the New York Times spoke for many in a headline that asked When the Pandemic Ends, Will School Change Forever?. This article surveyed students on how they felt about online learning and what they missed about physical classrooms. Their answers centered around difficulties in understanding assignments, distractions around the house and unreliable distance learning devices.
We wanted a teacher's perspective on whether hybrid learning, balancing the needs of in-person and remote students, was likely to become a permanent part of the education experience.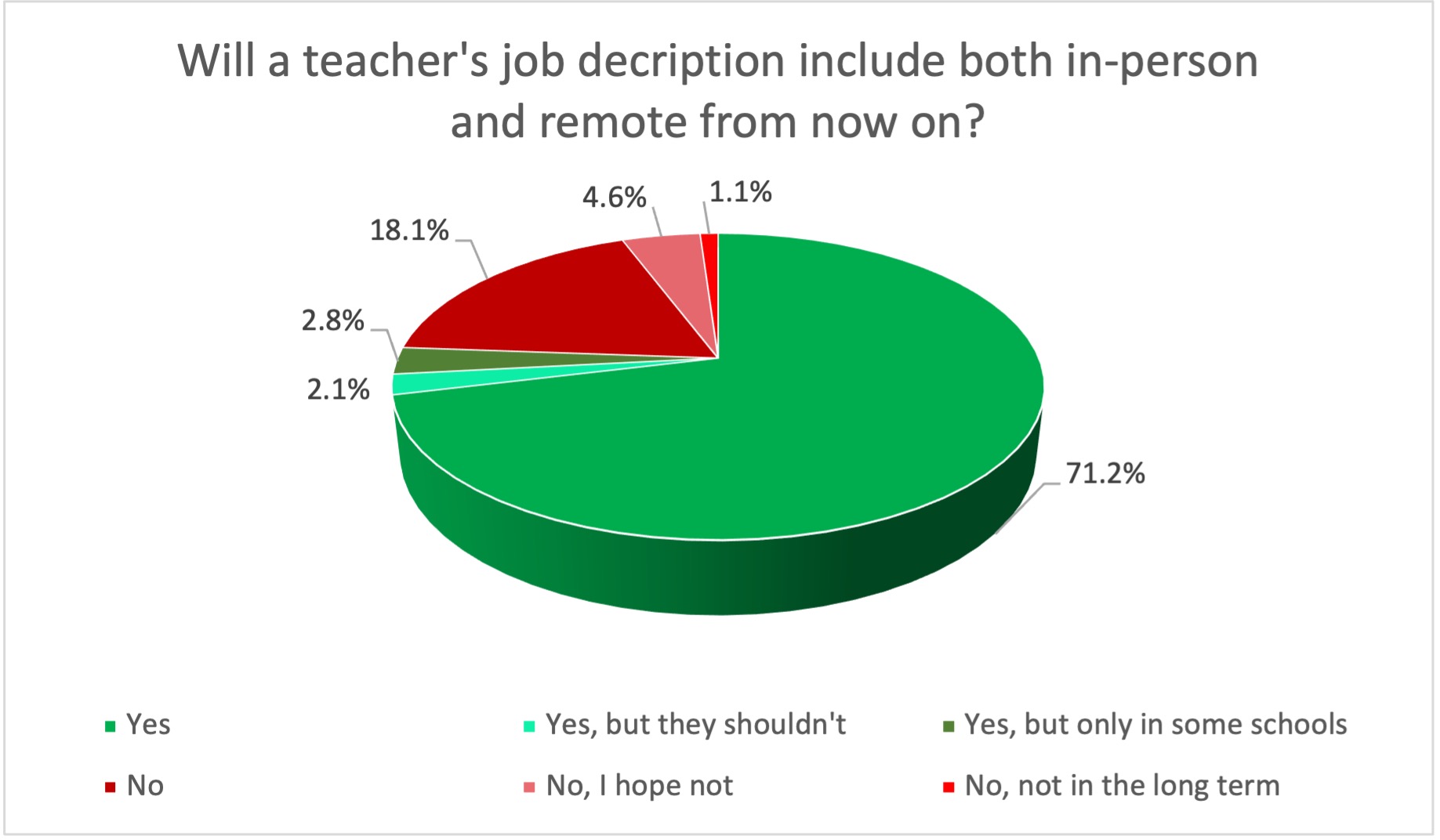 Their answer was overwhelmingly "Yes" for more than three out of four teachers, but some had reservations. While 76% agreed that double-duty teaching is the direction education is headed, about 3% of those respondents said that this will only apply to some schools. Another 2% qualified that "Yes" by saying that although teaching both in-person and remote is the most likely future, that is not what they want.

Responses from those who see their future jobs incorporating both types of learning included:
"I think it will, but it shouldn't. There should be separate remote and in-person teachers, not one doing both. But there should always be remote options available."
"If you have time and planning. Also, if they are not together at the same time."
"Possibly! But there should be online teachers and in-person teachers. Give teachers the option!"
On the other side of this issue, 18% simply said "No," while about 6% expanded on why not.
Representative answers included:
"Give it time and most districts will return to all in person learning."
"Kids need to be in the classroom."
"Not in my district, but it seems so in MANY others."
5 of the most crucial takeaways
More support - Teachers need more support in terms of leadership and technology as they adapt to the new reality of hybrid classrooms. This issue impacts the quality of education today and the prospects for attracting qualified teachers in the years to come.
Expectations off-base - Community expectations seem to be off-base in assuming that traditional classroom teaching can simply be put online. The two approaches require very different teaching styles and more time is needed to make sure students are getting equivalent education standards in each channel.
A safe return - While school safety remains a concern for many teachers, more than a tenth of the nation's teachers have already returned to some form of hybrid learning. The majority of those say they are happy to be back in the classroom.
Goals vs. reality - There remains a disconnect between the goals of education during this transition period and the reality of making hybrid learning work.
The future of teaching - Teachers recognize that hybrid learning with a customized mix of in-person and remote students is the way forward for education as a whole. At the same time, there is a significant number of teachers and district leaders who prefer traditional, in-person only classrooms.
Join us for Part II of OneScreen's 2021 Teacher Survey results
This is just the beginning of the insights brought to light by our newest Teacher Survey. Come back next time as dive deeper into survey results.
In part II of this series, we will answer what kind of support teachers want during reopening and which technologies they need to improve the online learning experience for everyone.
To see what's available right now for teachers and district leaders, we invite you to explore how OneScreen enables better outcomes in education. Set up a demo of our interactive flat panels, designed by and for educators to simplify hybrid learning.
Or investigate how an advanced temperature scanner/entryway manager reduces risks for everyone who comes through the door while it helps district leader comply with changing health and safety guidelines.
Contact OneScreen to learn more about unlimited training, help on demand for teachers, new funding for schools in the latest federal legislation and purchase options that reduce costs while keeping your school automatically upgraded to the most current technology.