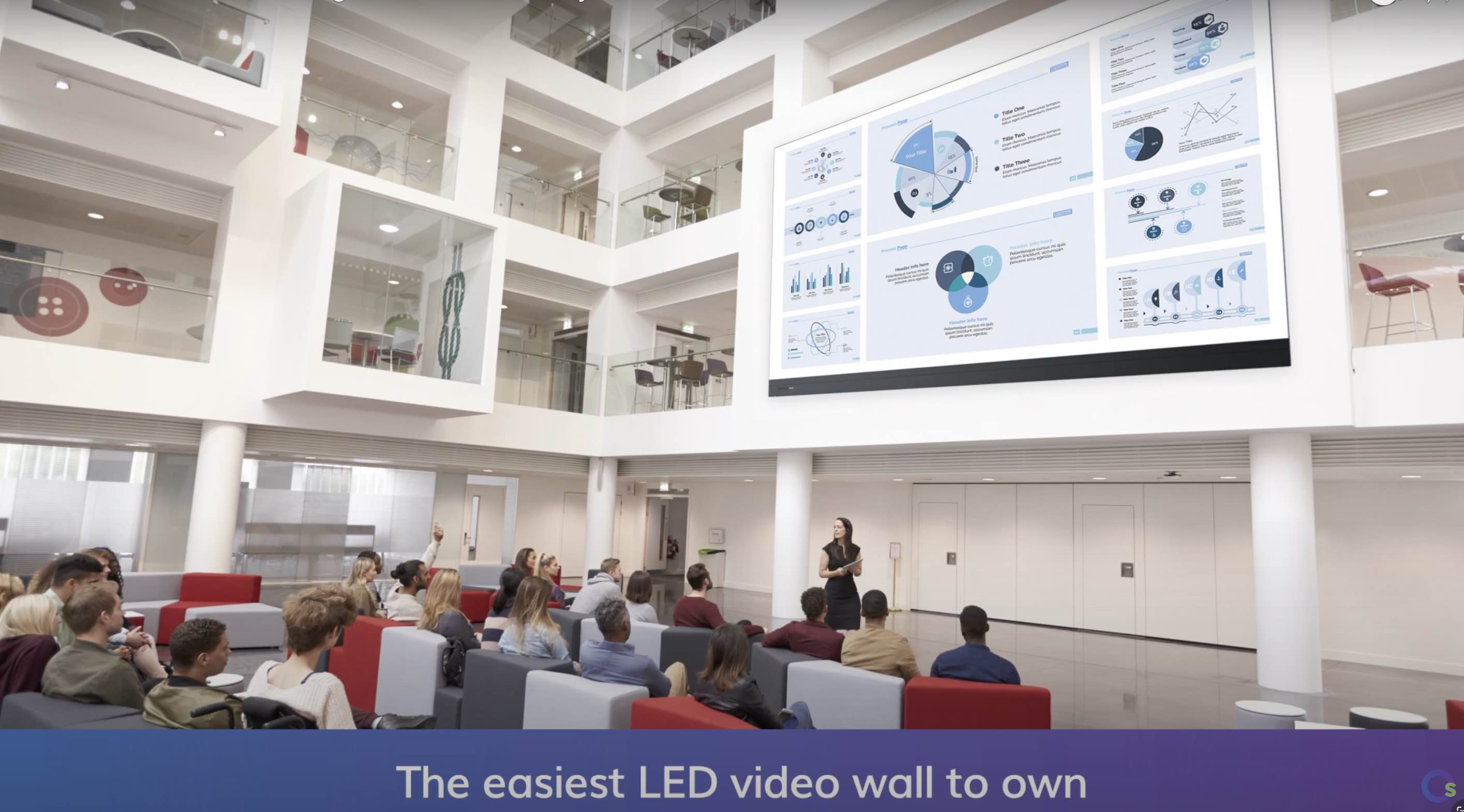 Video walls are giant visual displays that can be custom-built to fill unique spaces. The demand for this technology is on the rise in nearly every industry. Fortune Business Insights projects that the market for video walls will more than double by 2036, going from $16 billion today to more than $35 billion in the next decade, with an annual growth rate of 11%.
Why are schools, government offices and corporate HQs adopting video walls? Here are a few of the driving factors.
1.

Up to the minute
Perhaps the greatest driver of demand for video walls is their unparalleled ability to distribute real-time information.
When you pay for an ad or buy billboard space, the message doesn't change for a block of time. With your video wall, you can change the message right on your laptop and send new information immediately.
For schools, healthcare facilities, fire stations and public sector offices, this is a crucial advantage. Even retailers are beginning to see the possibilities of a messaging campaign that changes to reach different sectors of their audience.
2. More cost effective
Marketing costs rack up quickly. Ad campaigns that include online, television, radio, and print media spots can be expensive and every time you start over from scratch. Until now, that was the best way to reach the greatest number of people in hopes of convincing a few of them.
Video walls are your permanent display space for any number of campaigns. All you have to do is create a new presentation on your laptop and you've got a new campaign. The more you use it, the more cost effective it becomes.
Video walls are ruggedly built for a long lifespan, inside or outside. No more banners, billboards or paper signs. You can choose white glove installation so you don't even have to worry about setting up your video wall. You gain a massive amount of exposure in a short timeframe, targeted to those nearby who are most likely to use your services.
3. Double messaging
Radio reaches listeners' ears. Billboards send messages to their eyes. Video walls are the best of both worlds, with the coordination of sound and visuals to create memories.
The closest comparison is like having your own private TV channel that plays only your preferred messages. In fact, many video wall owners recoup the costs of the wall itself by selling advertising space on their displays.
4. Greater authority
Messages look more authoritative on a big screen. A giant visual with text and sound is intrinsically interesting, making the message the focal point of any public space. For school leaders and public sector organizations, it's critical that certain messages get delivered clearly and accurately.
When you have a message people need to hear, video walls are the number one channel of choice.
5. Perfect for data aggregation and analysis
CIOs are more and more drawn to video wall formats for gathering and analyzing the crucial data they use to make decisions.
Walk into any corporate office and after the video wall welcoming you in the visitor's lobby, you are most likely to see a video wall in the CIO's private office.
The video wall can be a central hub for monitoring and comparing data streams, as well as a presentation space where the C Suite can gather to look at all the facts in detail.
Video Walls Are the Future
The next decade is on track to make video walls as common as automatic doors. With all the distractions of daily life, it's already hard to rise above the noise of conventional marketing and that's only going to get more complicated in the years ahead.
Video walls are the best channel to collect essential data, present it clearly and reach an engaged audience.
See for yourself what a video wall can do for your organization with a personal demo.