Highlands is an international sales, marketing and eCommerce agency dedicated to helping clients grow sales in the business-to-business (B2B) and digital channels. They work with a variety of innovative companies who bring new and intelligent solutions to the marketplace.
Highlands partnered with OneScreen in June 2020 when they recognized how the Touchscreen and GoSafe products can help the US get back to business safely and effectively.
First, Highlands introduced wholesaler Essendant to GoSafe, then worked alongside them to market the product to their Reseller community. With the Highlands' client services team ensuring all product information and collateral was available, the national network of Highlands distribution sales managers educated Essendant's Dealers, provided them with the proper education and marketing material, helped them identify opportunities in their market and support inquiries to secure sales.
For example, the City of Oakland, CA, needed to get employees safely back into the office and was ready to make an investment in the right solution. After working with Highlands and OneScreen to learn more about the product, its simple plug-and-play installation, and customizable software, Oakland purchased 75 GoSafe units from one of the Essendant supported Dealers and placed them at all of their government buildings and facilities, including courthouses, police stations, libraries, etc.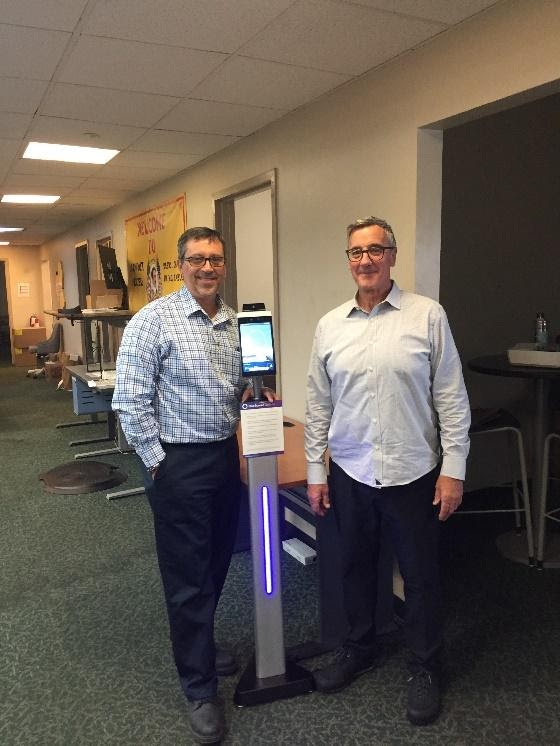 Nick Rafael and Bill Hammond set up and demonstrate GoSafe at wholesaler WB Mason's Bronx Branch.
Highlands also had an opportunity to introduce Staples' tech division to OneScreen. There were months of collaboration between OneScreen and Highlands preparing for the meeting. "Everyone at OneScreen is fabulous," said Nick Rafael, Highlands Business Development Manager, Northeast Region. "The relationship they have with us at Highlands is second to none." The Staples reps were extremely excited by the Touchscreen smart screen and there was an immediate influx of opportunities.
Nick and his partner, Bill Hammond, have helped secure two K-12 opportunities through Staples, including one at George Washing Sacred Hearts Schools and one at the High School for Law, Advocacy and Community Justice in New York City. Nick said, "It's only going to get bigger and better down the line as we continue to make these key contacts."