Security Camera FAQs
Before any other consideration, school leaders prioritize the health and safety of the students, teachers and staff under their care. Fortunately, technology has taken great strides in the past few years to help them reach that foundational goal. With greater public awareness around school violence come the responsibility to assure students that the school leaders are doing everything in their power to keep the grounds a safe space for learning.
All You Need To Know About Security Cameras In Schools
In 2021, OneScreen introduced specially designed security cameras with schools in mind. Here are some of the most common questions we have received about our network and AI-enhanced cameras for educational institutions.
Q: Do school security cameras really work?
A: The effectiveness of security cameras in schools has been proven time and time again. In fact, 91% of public schools in 2019-2020 reported using security cameras to monitor school grounds. Technologically advanced security cameras and software offer enhanced surveillance with multi-angular-wide views of highly trafficked areas. AI-enhanced NeuroCam from OneScreen is best in class and provides 99% accurate facial recognition along with object detection and license place recognition. This high advanced system even offers firearm detection, mask detection, and intrusion alerts.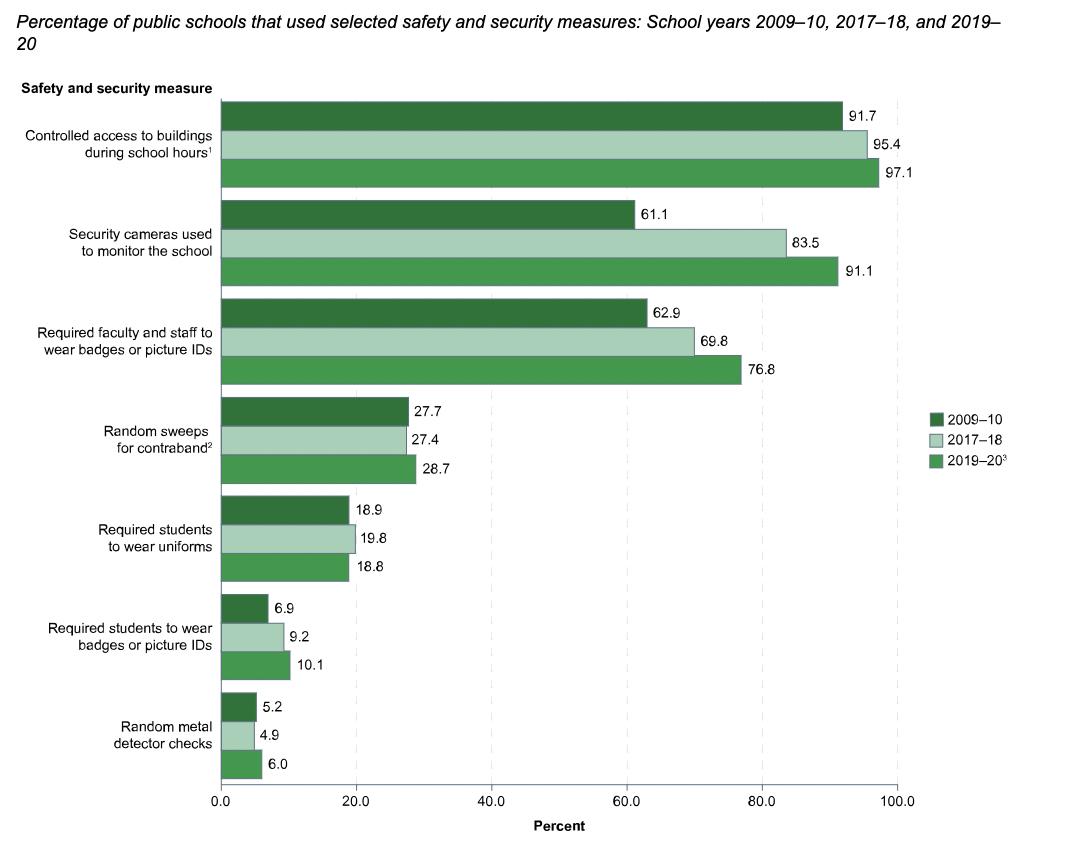 Q: Where are security cameras normally installed in schools?
A: Security cameras are typically installed in areas that experience the most foot traffic or where large groups gather. The most common areas where cameras are most utilized are in hallways, main entrances & exits, auditoriums, gymnasiums, lunchrooms, parking lots, and school buses. OneScreen PrimeCam is the most reliable and cost-effective way to expand existing IP-network cameras. It is NDAA approved and easily integrates with VMS systems.
Q: Are schools allowed to put cameras in classrooms?
A: Yes. Schools are starting to install cameras in the classroom to monitor behavior since this is where students spend most of their school day. Cameras are the best line of defense in mitigating risk for students and teachers throughout the day. Schools are also leaning towards cameras in classrooms to monitor teaching methods for evaluation and training purposes.
Q: How long do security cameras hold on to footage?
A: Storage times depend on individual product capabilities as well as software capacity. On average, most security images are stored for 30-90 days. One of the biggest advantages of NeuroCam is that the AI processor is built into the camera, so that there is no external computer or drive needed to store and process images. Analytics on the network edge can assess threats and emergencies in real-time data.
Q: Who has access to security camera recordings in the school?
That is entirely up to school leaders and the IT professionals who process the data. In most cases, Security officers can replay and review footage and administrators oversee requests for information. Members of law enforcement may become involved and review the images if necessary.
How School Security Cameras Can Make A Difference
Students, teachers, staff, and school visitors deserve the best protection that advanced technology can provide. AI-enhanced security cameras represent the leading edge of what the industry offers and point the way to smarter security in the near future. Learn more about the types of security cameras OneScreen offers and what they can do to make every school a safe space for learning.