All-in-One Solution
Collaborate with video, voice & data, interactive whiteboarding, screen sharing, annotating, polling, recording, saving, remote management & more.
Easy to Use
Like your computer with an extra large touch screen, so it's familiar for highly technical teams or not so savvy users. Everyone can walk up & work.
Ultra-Compatible
Built to integrate easily into your existing collaboration tech portfolio from hardware to software. Includes Windows, Mac, Android, iOs & Chrome OS.
Support Centric
Unlimited, free Screen Skills Guru support and training with all of our solutions via audio, video, chat, email or phone.
Presenting, training, brainstorming, reporting, selling, editing, strategizing, updating ... You name it. All in one smart screen.
OneScreen Hubware Business
Sizes, Specifications and Features
Cloud-based Services*
Centralized Control
OneScreen Central is centralized screen control, emergency notification, software upgrades & more
Interactive Whiteboard
OneScreen Annotate is interactive whiteboard and annotation software
Screen Share & Stream
EShare software, multi-device screen share & streaming
Annotation
OneScreen Write software, write on any content, save, transfer via QR code or email
Tools Navigation
OneScreen Navigate is for centralized & customizable product navigation from a home screen
Android Applications
Full access to Android Apps including Chorme, YouTube, Office Apps and more
Google Play Store
Full access to Google play store with multi-user login support
Free Help & Training
Unlimited Screen Skills Guru help & training available in one click on video or by chat, phone or email
Education Features
Distance Learning
OneScreen Hype video conferencing with screen sharing, recording, translation/transcription & more
Lesson Plans & Resources
ZUNI Learning provides all of the best, free, online lessons & resources in one place integrated with Google Class
Class Attendance
OneScreen Attendance for efficient and secure student attendance management
Business Features
Video Conferencing
OneScreen Hype video conferencing with screen sharing, recording, translation/transcription & more
Screen Skills Guru Service
Unlimited, free customer support and training via video, audio, chat or phone
| | | | | |
| --- | --- | --- | --- | --- |
| Panel Size | 55″ | 65″ | 75″ | 86″ |
| Screen Type | LG | LG | LG | LG |
| Resolution | 4K UHD - 3840(H) × 2160 (V) | 4K UHD - 3840(H) × 2160 (V) | 4K UHD - 3840(H) × 2160 (V) | 4K UHD - 3840(H) × 2160 (V) |
| Refresh Rate | 60 Hz | 60 Hz | 60 Hz | 60 Hz |
| Pixel Pitch | 0.315mm x 0.315mm | 0.315mm x 0.315mm | 0.315mm x 0.315mm | 0.315mm x 0.315mm |
| Brightness | 400 cd/m2 | 400 cd/m2 | 400 cd/m2 | 400 cd/m2 |
| Display Colors | 1.07Billon colors | 1.07Billon colors | 1.07Billon colors | 1.07Billon colors |
| Viewing angle | R/L 178 ° (Min.), U/D 176 ° (Min.) | R/L 178 ° (Min.), U/D 176 ° (Min.) | R/L 178 ° (Min.), U/D 176 ° (Min.) | R/L 178 ° (Min.), U/D 176 ° (Min.) |
| Android Processor | Version 8.0, Cortex A73*2+A53*2, Mali G51MP2, 64G EMMC5.1, 3GB DDR4 | Version 8.0, Cortex A73*2+A53*2, Mali G51MP2, 64G EMMC5.1, 3GB DDR4 | Version 8.0, Cortex A73*2+A53*2, Mali G51MP2, 64G EMMC5.1, 3GB DDR4 | Version 8.0, Cortex A73*2+A53*2, Mali G51MP2, 64G EMMC5.1, 3GB DDR4 |
| DOLBY Sound & Speakers | 2x 15W Built-in Left/Right Speakers with surround sound and automatic volume control | 2x 15W Built-in Left/Right Speakers with surround sound and automatic volume control | 2x 15W Built-in Left/Right Speakers with surround sound and automatic volume control | 2x 15W Built-in Left/Right Speakers with surround sound and automatic volume control |
| Surface Protection | 8 MOHS strength, anti-glare glass | 8 MOHS strength, anti-glare glass | 8 MOHS strength, anti-glare glass | 8 MOHS strength, anti-glare glass |
| Input & Output | Inputs: 3x HDMI (2.0), 1x VGA, 1x VGA Audio, 1x Microphone (3.5mm), 1x DP, 2x Touch USB, 1x TF/SD Card Outputs: 1x HDMI, 1x Headphone (3.5mm) Connectivity: 1x RS232, 2x RJ45, 2x USB (Front), 3x USB (Rear), 1x Wifi (2.4Ghz +5Ghz) | Inputs: 3x HDMI (2.0), 1x VGA, 1x VGA Audio, 1x Microphone (3.5mm), 1x DP, 2x Touch USB, 1x TF/SD Card Outputs: 1x HDMI, 1x Headphone (3.5mm) Connectivity: 1x RS232, 2x RJ45, 2x USB (Front), 3x USB (Rear), 1x Wifi (2.4Ghz +5Ghz) | Inputs: 3x HDMI (2.0), 1x VGA, 1x VGA Audio, 1x Microphone (3.5mm), 1x DP, 2x Touch USB, 1x TF/SD Card Outputs: 1x HDMI, 1x Headphone (3.5mm) Connectivity: 1x RS232, 2x RJ45, 2x USB (Front), 3x USB (Rear), 1x Wifi (2.4Ghz +5Ghz) | Inputs: 3x HDMI (2.0), 1x VGA, 1x VGA Audio, 1x Microphone (3.5mm), 1x DP, 2x Touch USB, 1x TF/SD Card Outputs: 1x HDMI, 1x Headphone (3.5mm) Connectivity: 1x RS232, 2x RJ45, 2x USB (Front), 3x USB (Rear), 1x Wifi (2.4Ghz +5Ghz) |
| IR Touch | 20x Touch points, Touch accuracy 2mm, Annotation over any source, Response time 2.5ms, Palm Detection, Pen and touch differentiation, Compatibility (Windows/Mac/Linux/Android/ Chrome) | 20x Touch points, Touch accuracy 2mm, Annotation over any source, Response time 2.5ms, Palm Detection, Pen and touch differentiation, Compatibility (Windows/Mac/Linux/Android/ Chrome) | 20x Touch points, Touch accuracy 2mm, Annotation over any source, Response time 2.5ms, Palm Detection, Pen and touch differentiation, Compatibility (Windows/Mac/Linux/Android/ Chrome) | 20x Touch points, Touch accuracy 2mm, Annotation over any source, Response time 2.5ms, Palm Detection, Pen and touch differentiation, Compatibility (Windows/Mac/Linux/Android/ Chrome) |
| Certifications | Certified for Energy Star, FCC (Federal Communications Commission), UL (Underwriter Laboratories), CE (European Conformance) | Certified for Energy Star, FCC (Federal Communications Commission), UL (Underwriter Laboratories), CE (European Conformance) | Certified for Energy Star, FCC (Federal Communications Commission), UL (Underwriter Laboratories), CE (European Conformance) | Certified for Energy Star, FCC (Federal Communications Commission), UL (Underwriter Laboratories), CE (European Conformance) |
| Power Supply | AC 100-240V, 60/50 HZ, Power Rate ≤160W, Standby ≤0.5W | AC 100-240V, 60/50 HZ, Power Rate ≤160W, Standby ≤0.5W | AC 100-240V, 60/50 HZ, Power Rate ≤160W, Standby ≤0.5W | AC 100-240V, 60/50 HZ, Power Rate ≤160W, Standby ≤0.5W |
| Other Features | Supports auto turn-off, sleep timer, multiple user profiles, HDCP 2.2 (HDMI) and dual-mode USB (OPS and Android) | Supports auto turn-off, sleep timer, multiple user profiles, HDCP 2.2 (HDMI) and dual-mode USB (OPS and Android) | Supports auto turn-off, sleep timer, multiple user profiles, HDCP 2.2 (HDMI) and dual-mode USB (OPS and Android) | Supports auto turn-off, sleep timer, multiple user profiles, HDCP 2.2 (HDMI) and dual-mode USB (OPS and Android) |
Model Sizes
55″, 65″, 75″, 86″
OPS PC
Intel Core i7 CPU 9th Gen, 8GB RAM, 256GB SSD, 4K resolution, WIn10 Pro
Intel Core i5 CPU 7th Gen, 8GB RAM, 256GB SSD, 4K resolution, Win10 Pro
OPS Inputs/Outputs
4x USB 3.0, 2x USB 2.0, 1x HDMI, 1x Display Port, 1x VGA, 1x Mic, 1x Earphone, 1x RS232
OneScreen Web Camera
1080p full HD with ultra-wide field of view, built-in microphone with 12' range, CMOS sensor, 2D/3D noise reduction
Wireless Keyboard, Mouse
Full size Logitech wireless keyboard with touchpad, 33 ft. wireless range
| | |
| --- | --- |
| Wall Mount | VESA standard 400x600, flush wall mount provided |
| Remote Controls | Remote Control x1 for display menu, sleep, source |
| Cables & Stylus | 1x HDMI Cable, 1x US Power Cable, 1x USB Touch Cable, 2x Pens, 1x Extendable pen |
| | | | | |
| --- | --- | --- | --- | --- |
| Panel Size | 55″ | 65″ | 75″ | 86″ |
| Product Dimensions | 49.9" x 31.1" x 3.4" | 58.5" x 35.8" x 3.5" | 67.2" x 40.7" x 3.6" | TBD |
| Product Weight | 88.2 lbs | 88.2 lbs | 110.2 lbs | TBD |
| Shipping Dimensions | 56.3" x 36.5" x 9.3" | 65.5" x 40.8" x 9.6" | 74" x 47.4" x 11.2" | TBD |
| Shipping Weight | 110.2 lbs | 119 lbs | 154.3 lbs | TBD |
| Advanced HW Replacement Warranty | Available at time of purchase only | Available at time of purchase only | Available at time of purchase only | Available at time of purchase only |
*First year of subscriptions to all cloud-based services included
OneScreen Hubware Business 6
Get a free quote
Hubware Business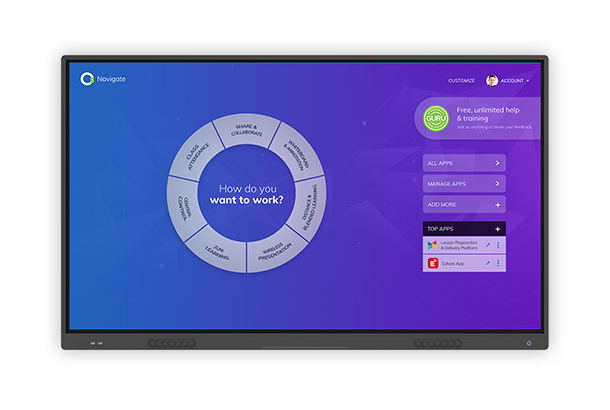 Hubware Business Resources
Hubware Business Videos
Learn about Screen Skill Guru
OneScreen Annotate interactive whiteboard
OnesScreen Hype video conferencing app
Hubware Business Documents