Case Study OneScreen & North Bend

North Bend School Rapidly Transitioned to Hybrid Learning with Smart Screens and Tech Support from OneScreen

Executive Summary
North Bend in Baltimore City, MD, needed better classroom tech and better support to keep students engaged while they made the switch to remote and hybrid classrooms. OneScreen smart screens helped to:
improve teacher performance.
handle spotty Wi-Fi coverage.
smooth out the rapid transition to new hybrid learning environments.
About North Bend
Teachers and staff at North Bend Elementary and Middle School in southwest Baltimore, MD, are dedicated to nurturing "Great Expectations" and "Endless Possibilities" for their students.
Their collective efforts were recognized with an Excellence in Gifted and Talented Education (EGATE) Award in 2019.
The key to their success in improving the lives of students, even those in disadvantaged communities, has been an unwavering commitment to technology in the classroom that matches each stage in childhood development.
Challenge
North Bend teachers have learned how to do more with their students despite limited resources, rapidly changing guidelines and tight budgets.
Patience Hein, Asst Principal at North Bend, said, "Bandwidth has consistently been a big problem." This has become a significant problem for schools across the greater Baltimore region as the population expands and more devices connect to the city's overburdened communications infrastructure.
Despite limitations, Hein and her team saw that bringing in new technology would be the smartest pathway to improved student performance. "Students today need computers. It helps them prepare for statewide testing, which is all computer-based now. Paper and pencil can't do that. We knew we had to give our teachers the opportunity to demonstrate for students how computerized assessments work."
In 2020, North Bend suddenly found itself facing the challenge of transitioning to teaching remotely due to social distancing and home quarantines. "There was a lot of reimagining what education would look like," said Hein. "We had to make sure we were still engaging our students, even if we couldn't be there in the same room. Overall, the integration of technology within school is vital as we help prepare students for future success in their post-graduate opportunities."
Solution
North Bend came to OneScreen after recognizing the need to upgrade outdated interactive flat panels.
OneScreen makes the only smart screens in the world built with an internal processor and Qualcomm technology to provide higher quality streaming video, clearer audio and an internal Hotspot to handle spotty Wi-FI coverage.
"Robyn [McGregor, OneScreen Regional Sales Manager] has been great - showing us exactly what OneScreen can offer," Hein noted. "She made it easy to put smart screens in our classrooms and even replace devices whenever we needed new ones."
Result
North Bend has grown to become the envy of neighboring schools in the district. Eshare has been particularly popular because it makes it easy for teacher presentation.
As educators from other schools saw OneScreen in action, there was a great deal of buzz. "Staff from other schools would visit our classrooms and come away asking how they could get smart screens like these for their own classrooms." said Hein.
For Melanie Smith, 8th Grade Math/Algebra teacher at North Bend, the capabilities of OneScreen are now integral to her lesson planning. She said, "The boards are phenomenal! To have the ability to screenshare on a clear, bright screen that students can see throughout the room is paramount. The annotation features are super useful in my math class; students can mark up a word problem, or properly label measurements. The versatility of the board and the touch screen capabilities have really enhanced my classroom instruction."
Whatever comes next - in-person, remote learning, hybrid or something entirely new - North Bend has the technology to propel student success into a brighter future.
"We're very happy with OneScreen. We ordered 29 Touchscreens and they have definitely enhanced student engagement. Kids love to walk right up and start using them. We just ordered 5 more for Art, Music, ESOL, Speech Pathologist and even the Gymnasium. Now we can show our students all kinds of different exercises."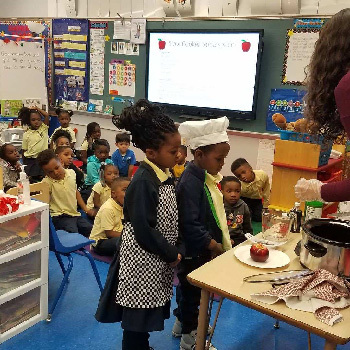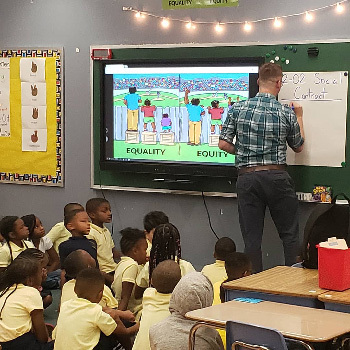 ---