Browser-based
Simple web-based application that allows screen sharing in one click.
Multi-Party Share & Control
Instantly share, view, and control screens from any device or platform.
Secure
Securely share, view and control workstations with remote participants.
Support Centric
Live help, in one click, so your work moves forward now.
Share, view and control screens confidently with Swap's global server infrastructure.
Prices starting at:
$10/month
Looking for an on-premise solution?
See more detailed information about our OneScreen Hype and OneScreen Swap solutions for on-premise deployment.
OneScreen Swap Subscription
Screen Share and Control Functionality
Description
Swap
Share your screen
Up to 50 total remote users simultaneously via any web browser
Give control of your mouse and keyboard to one or more users
Requires Windows based download
Multi-monitor control
Simultaneous control of multiple computers
Annotation
Remote access
Presence indicator for each user
Maximum video transmit quality
1080p resolution
Maximum frame rate
30fps
Screen Skills Guru support and service
Screen Share and Control Functionality
Description
Administrator License
User License
Full administrator functionality
-
Flexible user sign-in
License linked to email not device
License linked to email not device
Unlimited session duration
Add & remove user, create, delete, and give control of communities
Accept control of communities
Create permanent team screens
User & community management
Monthly subscription
Supported Platforms & Compatibility
Description
Swap
Supported operating systems
Windows 7 and above for publishing, Also view & control using Windows OS, Mac, Linux, Chrome OS, Android & iOS for controlling & viewing
Supported browsers
Google Chrome (49+), Google Chrome for Android (57+), Fire Fox (51+), Internet Explorer (11+), Android (4.4+), iOS (9.3+), Safari (10+), Microsoft Edge (14+), Opera (43+) and Opera  mini (all)
More OneScreen Collaboration Software
Unleash your team's work flow.
Hype
Browser-based Video Conferencing and Collaboration
---
Web based cloud subscription
Unlimited multi-party calls with up to 50 participants
Desktop and application sharing, recording
Instant messaging, file exchange, dial-out capability & online whiteboard
Simple interoperability with laptop, tablet, and smartphone
Conduct highly secure meetings
Technical support with live, on-demand Screen Skills Guur service
---
---
Learn More
Annotate
Interactive Whiteboard Software
---
Include up to 50 users in a shared whiteboard space
Unlimited content annotation capabilities
Unrivaled OneScreen Annotate Software
Customized on-screen workspace and toolbars
Personalized search sites automatically deliver content at the touch of a finger
Unparalleled collaboration, information sharing, and interactive presentation capabilities
---
---
Learn More
OneScreen Swap Product Resources
Tips for Using OneScreen Swap
Swap screens in one click. Browser-based, secure, instant screen share and control with remote teams from wherever you are. Live, online, on demand help and unlimited, free, online training.
OneScreen Swap Downloadable Resources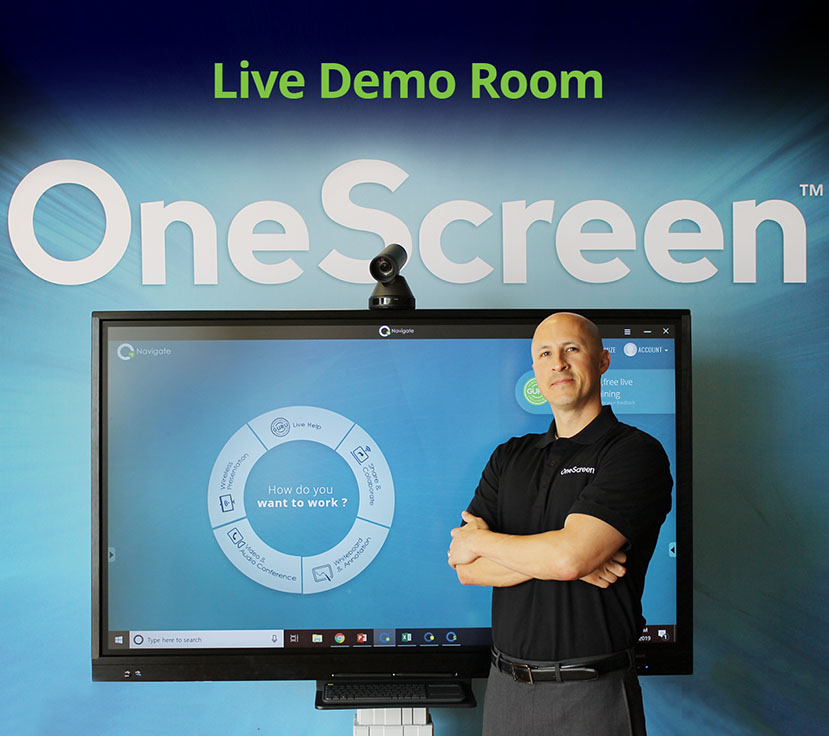 What are customers saying?
---
"The OneScreen has performed above and beyond our expectations. The support staff has been very helpful. Everything has been easy when it comes to working with the staff."
---
"OneScreen Canvas has exceeded expectations at our training facility. The OneSreen Annotate software is extremely user friendly and intuitive. I would recommend it to anyone looking to work with a company that offers incredible customer service."
---
"The OneScreen Canvas has been a great boost to what we do at Memphis Teen Challenge. The digital interaction has been valuable in the classroom and staff meetings. The OneScreen team is hands on in helping us."
---
More User Testimonials